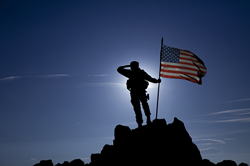 "We are proud of what the ShopVCS online experience for veterans and their support systems has accomplished so far, and look forward to what more the partnership will bring to those who have given so much for our country" - Alan Cole, GovX CEO
SAN DIEGO (PRWEB) October 31, 2022
GovX, the leader in military and first responder shopping services, has renewed its partnership with Veterans Canteen Service (VCS), a service within the Department of Veterans Affairs offering retail items and services to veterans. Following the success over the last four years, this partnership will continue to provide veterans enrolled in the VA healthcare system, their families, VA volunteers and VA employees with access to great prices on a wide catalog of brands and products on ShopVCS.VA.Gov.
"We are proud to continue our business partnership with GovX," said James Leahy, Executive Director of Veterans Canteen Service. "Our relationship has strengthened through the pandemic, and we are grateful to continue the VCS benefit to our 9 million veterans enrolled in VA healthcare, their families, caregivers and fellow VA employees."
ShopVCS.VA.Gov, powered by GovX, launched in 2018 to help expand shopping benefits to the VCS community beyond brick-and-mortar retail stores. A division of the Department of Veterans Affairs, the VCS online store features deals on thousands of products from hundreds of top brands including Under Armour, Ray-Ban, YETI, Dell, Vortex Optics, Garmin, and many more. Partnering with GovX allows the VCS community a streamlined ordering process, online payment options, complete mobile functionality for smartphones and tablets, and accessibility features for the visually impaired.
Since the full-featured ecommerce platform for veterans launched four years ago, the site has enrolled over half a million verified members. Beyond providing exclusive discounts and services available only to authorized members, the platform also gives back to the veteran community. Proceeds from the site's purchases go back to VA programs established for the health and well-being of our nation's heroes, such as the VA's national rehabilitation adaptive sports games, suicide prevention, Fisher House, women veteran programs, national disaster relief, homeless veteran programs, and more.
"We are honored to continue our partnership with Veterans Canteen Service to support the veteran community," said GovX CEO Alan Cole. "At GovX, our mission is to ensure our community of service members have access to benefits that best support them and their families. We are proud of what the ShopVCS online experience for veterans and their support systems has accomplished so far, and look forward to what more the partnership will bring to those who have given so much for our country."
Veterans Canteen Service was established in 1946 to provide articles of merchandise and services at reasonable prices to veterans enrolled in the VA healthcare system. Their goal of incorporating a strategic veteran-centric approach that emphasizes the importance of service to veterans and supporting the VA's overall mission continues with the renewal of the online ShopVCS catalog.
GovX is proud to serve those who serve and their families with a platform where members can get the best discounts, support the important work that many nonprofits and organizations are doing for the community, and help other businesses learn how to best support service members. To learn more about GovX, please visit http://www.GovX.com.
The VCS online store, powered by GovX, offers thousands of products and services to authorized VCS customers at exclusive rates. Please visit shopvcs.va.gov to sign up or learn more.
# # #
About GovX:
GovX.com is for men and women of service. A members-only online destination for military and first responders, the site offers thousands of products from hundreds of brands at exclusive, below-retail pricing. Members include active and veteran U.S. military, firefighters, law enforcement officers, federal agents, healthcare workers and personnel from related government agencies. For more information, visit http://www.govx.com
About Veterans Canteen Service:
The Veterans Canteen Service is a network of retail stores that was established in 1946 by the Department of Veterans Affairs. They operate a variety of retail, food, and vending services across the country, and proceeds from sales support crucial VA programs. Their veteran-centric approach emphasizes the importance of providing for the men and women who've served in the Armed Forces and their families. Visit http://www.vacanteen.va.gov to learn more.