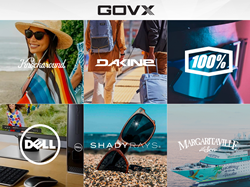 "We are excited to partner with major brands known across the country for providing excellent products and amazing experiences for our members," said GovX CEO and President Alan Cole.
SAN DIEGO, Calif. (PRWEB) September 21, 2022
GovX, the online platform for active and former military and first responders, is excited to announce several new major brand partnerships. GovX offers over 6 million verified members exclusive discounts on more than 850 brands on GovX.com, and over 2,500 businesses are using GovX ID to enable group discounts on their sites. This fall, GovX will broaden its offerings with six new partnerships that will bring even more savings to service members and their families.
"We are excited to partner with major brands known across the country for providing excellent products and amazing experiences for our members," said GovX CEO and President Alan Cole. "At GovX, we are focused on supporting military service members, first responders and their families by providing products and programs that are important and useful to them. It is wonderful to welcome these new partnerships to the GovX platform and provide even more opportunities to give back to those who give so much."
GovX's mission of serving those who serve continues to develop with these new partners, which include exciting brands like Shady Rays, Margaritaville At Sea, Knockaround, Dakine, 100%, and Dell. With more brands and programs continuing to launch throughout the end of the year, members can discover new savings every time they shop. GovX members can take advantage of these discounts either through the GovX Marketplace on GovX.com or directly on partner websites.
GovX is proud to add these major brands to its e-commerce platform:

Knockaround has been offering eyewear since 2005, focusing on a sunglasses line that is both practical and stylish. "We're thrilled about the partnership with GovX and look forward to providing those who serve with special offers on sunglasses, snow goggles, and apparel," shared Jeffrey R. Hennion, CEO of Knockaround.
Dakine builds backpacks, travel bags, accessories, outerwear and clothing for people who love to surf, snowboard, skateboard, mountain bike, ski, windsurf, kiteboard and travel. "We are excited to see the Dakine GovX partnership grow!" said Roxanne Tomasyan, Senior Account Executive.
100% offers high quality motocross gear. "At 100%, we greatly appreciate all that these individuals do in going above and beyond the call of duty, and feel strongly that each person who chooses 100% as performance enhancement gear will immensely appreciate the product quality, details, and craftsmanship," Mattthew Davis, Director of Sales shared. "Not to mention, the unique style which the 100% brand is known for."
Dell offers laptops, desktop computers, all-in-one PCs, and more. Members can now take advantage of incredible discounts on Dell products on GovX's Marketplace.
Members can also save on these leading brands using GovX ID:

Shady Rays is an independent American-owned sunglasses company that offers eyewear with quality, polarized lenses accompanied by its signature "Lost & Broken" protection. "We are so excited for our new partnership with GovX and to be able to offer our shades along with our Lost & Broken protection program to all those who serve," shared Amanda Travaglini, VP of Digital.
Margaritaville at Sea is a floating island vacation at sea. GovX members can enjoy discounted tickets for Margaritaville at Sea Paradise, with an additional $25 onboard credit. "We are honored to partner with GovX to offer our service members a chance to relax and let us take care of them after all they've done to care for our communities at home and abroad," said Oneil Khosa, CEO of Margaritaville at Sea.
GovX is proud to serve those who serve by offering access to privileged pricing on thousands of products offered by hundreds of brands. GovX memberships and GovX ID are free to those with a valid government ID, including active and veteran U.S. military, first responders, federal agents, healthcare workers and government employees, and their families. To learn more about GovX, GovX Marketplace, and GovX ID, please visit http://www.GovX.com.
# # #
About GovX:
GovX.com is for men and women of service. A members-only online destination for military and first responders, the site offers thousands of products from hundreds of brands at exclusive, below-retail pricing. Members include active and veteran U.S. military, firefighters, law enforcement officers, federal agents, healthcare workers and personnel from related government agencies. For more information, visit http://www.govx.com