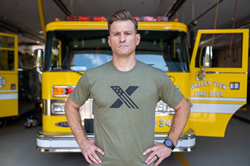 "I'm proud to join forces with GovX to help spread the word to firefighters across the country, and more men and women with service-related backgrounds." - Stipe Miocic
SAN DIEGO (PRWEB) October 08, 2021
GovX.com, the online shopping site exclusively for current and former military, first responders, and federal employees, has partnered with Stipe Miocic, the MMA heavyweight champion and Ohio firefighter. The alliance promises to help promote GovX.com to those who are eligible for exclusive membership, and to give back to nonprofits dedicated to Americans with service-related backgrounds.
Stipe Miocic is an American professional mixed martial artist who competes in the heavyweight division. A former six-time champion, he is popularly regarded as one of the greatest heavyweight fighters of all time. He holds the records for most wins in heavyweight title fights alongside the longest title defending streak in the division with three consecutive defenses.
On top of his MMA career, Miocic serves his community as a part-time firefighter paramedic in Oakwood and Valley View, Ohio, where he's worked for over a decade. This combination of fighter and firefighter makes Miocic uniquely positioned as an ambassador of GovX.
"I'm proud to join forces with GovX to help spread the word to firefighters across the country, and more men and women with service-related backgrounds," said Miocic. "GovX is a brand dedicated to this community and I consider it a privilege to work alongside them."
The partnership between GovX and Miocic will be visible across various platforms, including a new national TV campaign, as well as web and social media campaigns.
GovX and Miocic also launched a new feature called STIPE'S CORNER, a monthly charitable effort designed to support nonprofits giving back to Americans with military, first responder, and law enforcement experience. Every month, Miocic will select a new product in the GovX catalog and GovX will donate 5% of proceeds from sales of that product to the GovX Gives Back nonprofit of the month.
To learn more about Stipe Miocic, follow him on Instagram @stipemiocic, and listen to his podcast J.A.B.s (Just Awkward Buddies) wherever podcasts are available.
ABOUT GOVX
GovX.com is for men and women of service. A members-only online destination for military and first responders, the site offers thousands of products from hundreds of brands at exclusive, below-retail pricing. Members include active and veteran U.S. military, firefighters, law enforcement officers, federal agents, healthcare workers and personnel from related government agencies. For more information, visit http://www.govx.com