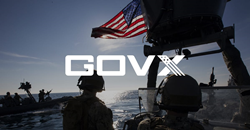 "GovX's mission is to serve those who serve, and looking back at the last eleven years, I am proud to share that is exactly what our team accomplishes day after day," said GovX President and CEO Alan Cole
SAN DIEGO (PRWEB) August 18, 2022
In 2011, a small group of people had the desire to create a curated catalog of gear at the best prices exclusively for those who protect and serve. Eleven years later, GovX has grown into an award-winning, massive online marketplace where U.S. military service members, first responders, emergency medical professionals, and other state/federal employees access discounts and deals on thousands of major brands, products, programs, and experiences across the internet. More than just great deals in one convenient online platform, GovX has solidified itself as an integral part of the servicemember community over the last 11 years, establishing major partnerships through the GovX.com marketplace, its GovX ID technology, GovX Gives Back, and more.
"GovX's mission is to serve those who serve, and looking back at the last eleven years, I am proud to share that is exactly what our team accomplishes day after day. We couldn't have done any of this without our dedicated team, amazing members, their families, and our partners," said GovX President and CEO Alan Cole. "I am honored to celebrate this milestone, and I look forward to all that we will accomplish in the future."
From the best deals, exclusive gear, major brand partnerships and monthly fundraising efforts, GovX proudly presents some top milestones from the last 11 years:

2011 - GovX was founded in August as the first, exclusive online servicemember shopping site for those who serve.
2012 – In just one year, GovX reached its first 100,000 registered members.
2013 – GovX launched its first partnership with a major league sports team, the San Diego Padres, to provide exclusive ticket prices for those who serve. GovX now works with dozens of teams across all major U.S. professional sports leagues.
2014 – In just three years since its inception, GovX reached its first 1,000,000 member milestone.
2015 – GovX launched the GovX Gives Back program to further support nonprofits serving the military and first responder communities. Through the GovX Gives Back program, GovX has now donated over $1 million to enhance the impact of nonprofits nationwide.
2018 – GovX introduced its GovX Rewards loyalty program, where GovX members have received over $9.5 million in rewards credits since launch.
2018 – In the same year, GovX partnered with the Veterans Canteen Service – the retail arm of the Department of Veteran Affairs – to bring their shopping experience online by launching ShopVCS.
2019 – GovX created the GovX ID app for Shopify, allowing Shopify merchants to easily enable GovX's innovative verification technology and expand military discounts beyond GovX.com.
2020 – Nurses and other emergency medical professionals were officially welcomed into the GovX community, to honor their service during the COVID-19 pandemic.
2020 – GovX partnered with Topgolf to sponsor the Topgolf Heroes Program, to recognize the service of our nation's heroes in Topgolf venues nationwide with exclusive discounts of 10% off Topgolf game play, 20% discount on select monthly memberships, and more.
2021 – GovX celebrated a decade of serving those who serve, exceeding over 5,000,000 member registrations.
In 2022 GovX has expanded exponentially. The company proudly boasts a team of nearly 100 patriots who are passionate about delivering a seamless experience for its now 6 million active members. A leading e-commerce platform, GovX has over 750 brand partners that sell on GovX.com and over 1,600 brand partners that have GovX ID enabled across the internet. With its innovative technology and integrations, GovX has made it easier than ever for leading brands to support those who serve.
"To all our members, thank you for all you do," adds Cole. "I am so honored to be a part of GovX's journey, and we will continue to innovate as we strive to find the best ways to support service members and their families."
GovX is dedicated to serving those who serve through the development of exclusive e-commerce channels and the support of nonprofits that provide valuable assistance to this community. To learn more about GovX, GovX ID, and GovX Gives Back, please visit http://www.GovX.com.
# # #
About GovX:
GovX.com is for men and women of service. A members-only online destination for military and first responders, the site offers thousands of products from hundreds of brands at exclusive, below-retail pricing. Members include active and veteran U.S. military, firefighters, law enforcement officers, federal agents, healthcare workers and personnel from related government agencies. For more information, visit http://www.govx.com.