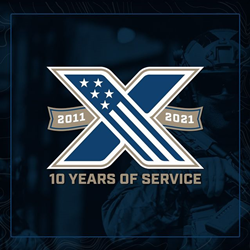 "To every American of service who is part of our community of 5 million members, thank you for being with us." - Alan Cole, CEO
SAN DIEGO (PRWEB) August 12, 2021
GovX Inc, the technology company serving current and former military, first responders, medical, and government employees is celebrating the 10th anniversary of GovX.com, the company's flagship e-commerce site.
GovX.com is marking the occasion with complimentary credits in every customer's account, which can be combined with special limited time savings on hundreds of brands across the site.
The foundational goal of GovX.com is to support and honor Americans with uniformed experience. The mission began with a modest catalog of gear and apparel available at exclusive, members-only prices. GovX.com expanded to include discounts from hundreds of leading brands, major league sporting events, concerts and shows, theme park tickets, hotels and travel services, and more savings exclusively for Americans of service.
As the company reaches this milestone anniversary, it celebrates a community of 5 million registered members. GovX members serve or have served in all branches of the US Armed Forces, in police departments, fire departments, and medical and government services across the country.
A core pillar of the business is GovX Gives Back, the company's charitable arm established to donate to military and first responder related nonprofits. At the start of 2021, GovX reached the milestone of donating a total of over half a million dollars to nonprofits like FirefighterAid, Iraq and Afghanistan Veterans of America, Folds of Honor, National Law Enforcement Officer's Memorial Fund, Team Rubicon, and many more. GovX recently bolstered their philanthropic efforts by donating 5% of all sales of the brand's own GovX Gear line to each month's chosen nonprofit.
The company's mission to serve its members has grown beyond GovX.com with the expansion of GovX ID, the technology that powers military and first responder discounts. GovX ID allows GovX members to save on a growing network of brands and services across the web. Currently there are over 2,000 brands offering discounts to GovX members.
"To every American of service who is part of our community of 5 million members, thank you for being with us. Thank you for shopping and helping us support your allies, friends, and families," said Alan Cole, President and CEO. "Our mission continues into the next decade and we welcome many decades more."
Join the GovX community for free by visiting GovX.com.