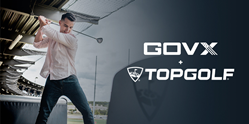 "We are thrilled to continue to extend special offers, together with GovX, to these heroes across the country so they can have fun and memorable experiences while playing with friends and family." - Rodney Ferrell, Topgolf VP of Global Partnerships
SAN DIEGO (PRWEB) May 12, 2022
GovX, the online shopping site exclusively for current and former military and first responders, has continued its relationship with Topgolf into another year. The sports and entertainment company's Heroes Program is presented by GovX and allows GovX members to enjoy discounts and bonuses at Topgolf venues across the country.
U.S. military service members (active duty and veterans), police, fire and EMS personnel enjoy 10% off Topgolf game play, a 20% discount on select monthly memberships, and a 10% discount on event game play and/or room rental when booking an event with a Topgolf Sales Associate. In an expansion for the Heroes Program in 2022, Topgolf now welcomes healthcare workers and teachers.
"Topgolf and GovX have had a long-standing partnership in support of our Topgolf Heroes program, honoring our military, first responders, healthcare workers and teachers," said Rodney Ferrell, Topgolf VP of Global Partnerships. "We are thrilled to continue to extend special offers, together with GovX, to these heroes across the country so they can have fun and memorable experiences while playing with friends and family at Topgolf."
The Heroes Program also extends to the catalog of GovX.com, where members get a $20 gameplay bonus card with the purchase of a $75 Topgolf gift card, a $95 value. The gift card can be combined with the regular 10% off Heroes Program perk members enjoy at any Topgolf location in the United States.
As a new addition to the partnership for 2022, GovX will be the presenting sponsor for a nationwide contest happening at all Topgolf venues during the month of May. Players will be able to enter the contest for a chance to win a Topgolf Platinum Membership and one year of free play valued at $3,500.
"We are proud to partner with Topgolf for another year in honor of Americans in uniform nationwide," said Alan Cole, GovX CEO. "Topgolf's commitment to give back to those who serve our country and communities is the same as our own, and we're grateful to expand the Heroes Program to include even more GovX members for 2022."
To learn more about the Topgolf Heroes Program, visit their website.
To find a Topgolf location near you, click here.
ABOUT GOVX
GovX.com is for Americans of service. A members-only online destination for military and first responders, the site offers thousands of products from hundreds of brands at exclusive, below-retail pricing. Members include active and veteran U.S. military, firefighters, law enforcement officers, federal agents, and personnel from related government agencies. For more information, visit http://www.govx.com.