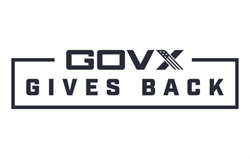 Workshops for Warriors give back to service members by engaging their talents and capacity for meeting every challenge. - Alan Cole, GovX CEO
SAN DIEGO (PRWEB) July 03, 2019
A fundraising effort organized by GovX—the online shopping site exclusively for current and former military, law enforcement and first responders—has raised over $7,000 for Workshops for Warriors, a nonprofit school that provides training, education, and opportunities to earn third party nationally recognized credentials that enable veterans and transitioning service members to pursue and be placed into advanced manufacturing careers.
The GovX community raised the funds with over 2,000 individual purchases of the newest entry in the Patch of the Month series, a special limited-edition patch honoring the 75th anniversary of the D-Day invasion of World War II. Proceeds from the patch were donated to the nonprofit after being on sale for the month of June.
Workshops for Warriors aims to imbue the warrior's character in US manufacturing. "We are honored to have earned the support of GovX and proud to have been selected as a recipient for the Patch of the Month," said Hernán Luis y Prado, founder and CEO of Workshops for Warriors.
Since its inception in 2008, the school has since grown in popularity, fueled by a population of transitioning servicemembers seeking meaningful and challenging work after their military careers conclude. With the credentials that WFW students graduate with, veterans can succeed in a changing industry affected by automation, globalization, and other technological advancements.
CEO Hernán Luis Prado is a retired U.S. Navy Hospital Corpsman and Surface Warfare Officer who founded Workshops for Warriors based on two pressing needs. "One of those needs is the lack of advanced manufacturing talent in the U.S.," said Hernán. "The other is that some veterans and wounded warriors aren't able to integrate successfully into civilian life again. Workshops for Warriors trains them, certifies them to nationally recognized standards, and places them into advanced manufacturing careers."
"Workshops for Warriors is an incredible believer in the power and passion of the veteran community," said Alan Cole, GovX CEO. "They give back to service members by engaging their talents and capacity for meeting every challenge. It's an incredible mission, and we thank every GovX member who purchased their patch so we could support this community."
If you're interested in enrolling in the next Workshops for Warriors term, visit their website and fill out an application.
ABOUT GOVX
GovX.com is for the men and women who protect our country and communities. The members-only eCommerce site offers thousands of products, tickets and travel services from hundreds of premium brands at exclusive, below-retail pricing. Eligible members include active and veteran U.S. military, firefighters, law enforcement officers and federal agents. Membership is free and more information can be found at GovX.com.