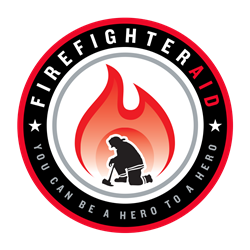 "Our partners are more important now than ever, and the donation we received from GovX will give us the ability to help our firefighters and their families considerably." - Amber DeBartolo, Community Programs Coordinator
SAN DIEGO (PRWEB) October 19, 2021
A fundraising effort organized by GovX, the online shopping site exclusively for current and former military and first responders, raised over $18,000 for FirefighterAid, the nonprofit fund managed by the San Diego Fire Relief Association that provides charitable assistance to firefighters and their families in times of need and promotes awareness of firefighter health and safety issues.
Community members raised the GovX Gives Back September funds through sales of the September 2021 Patch of the Month and orders of GovX's own line of athletic apparel and products. The limited edition 9/11 memorial patch commemorating the 20th anniversary of the attacks of September 11th, and honors firefighters, police, and the armed forces, all of whom were called upon to serve on that historical day. Combined, the GovX community raised $18,286 for FirefighterAid.
"We are so appreciative of the GovX team and all of their generosity throughout the years. Our partners are more important now than ever, and the donation we received from GovX will give us the ability to help our firefighters and their families considerably," said Amber DeBartolo, Community Programs Coordinator. "We are looking forward to working with GovX in the future, and want to thank everyone who put in the hard work, effort, and kindness to support our organization as well as our community."
Supported entirely by donations from SDFRA members and the public, FirefighterAid is one of GovX's closest allies in its mission to support first responders who serve America's communities. The fund provides charitable assistance to professionals from every world of the firefighting community, from wildland to structural, full-time paid firefighters to part-time volunteers. They galvanize the dreams of young people who want to become firefighters with scholarships for attending fire cadet programs.
FirefighterAid also champions the causes of firefighter health and safety with educational programming and seminars. Through the Cancer Awareness & Prevention Program, the nonprofit reinforces best practices in the workplace to mitigate the risk of cancer-causing contaminants that firefighters so often encounter on the job.
FirefighterAid also offers more personalized and critical support for the extended members of the firefighting community. Following the death or injury of an active-duty firefighter, FirefighterAid volunteers provide logistical and emotional support for families—performing chores, doing housework, delivering groceries, providing transportation, and sending annual gift baskets to grieving spouses.
"We are proud to include FirefighterAid in our monthly GovX Gives Back efforts for another year, and we look forward to years more," said Alan Cole, GovX CEO. "This year which marked the 20th anniversary of 9/11, it's more important than ever to honor the services and sacrifices of firefighters and first responders nationwide, and I'm so grateful to the GovX community for supporting FirefighterAid again."
If you're interested in volunteering with FirefighterAid, learn more by visiting their Get Involved section.
ABOUT GOVX
GovX.com is for Americans of service. A members-only online destination for military and first responders, the site offers thousands of products from hundreds of brands at exclusive, below-retail pricing. Members include active and veteran U.S. military, firefighters, law enforcement officers, federal agents, and personnel from related government agencies. For more information, visit http://www.govx.com.