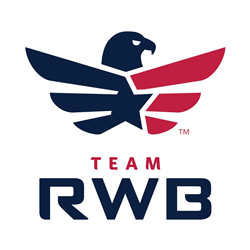 "We are grateful to our GovX for recognizing the crucial importance of improving health and wellness outcomes for veterans." - Mike Erwin, Executive Director
SAN DIEGO (PRWEB) December 15, 2021
A fundraising effort organized by GovX, the online shopping site exclusively for current and former military and first responders, has raised over $24,000 for Team Red White & Blue (Team RWB), a nonprofit organization forging America's leading health and wellness community for veterans.
Community members raised the GovX Gives Back funds through sales of the November 2021 Patch of the Month and orders of GovX's own line of athletic apparel and products. GovX Gives Back also raised a portion of the funds through STIPE'S CORNER, with 5% of proceeds from MMA champ Stipe Miocic's product-of-choice from the GovX catalog directly supporting Team RWB. The combined effort resulted in a record fundraising month for GovX Give Back.
"The funds raised will directly support our mission and strengthen our programs and chapters," said Mike Erwin, Executive Director of Team RWB. "We are grateful to our GovX for recognizing the crucial importance of improving health and wellness outcomes for veterans."
With over 200 chapters nationwide and nearly 200,000 members, Team RWB is one of the largest veterans' organizations in the country.
Every year, more than 250,000 active-duty service members transition out of the military, joining the 3.5 million post-9/11 veterans already living in communities nationwide. They face many challenges including isolation, weight gain, lack of purpose, and other health issues. Team RWB aims to address those challenges by reinvigorating the sense of community and camaraderie that many veterans lose when they leave active duty or return home from deployments. Through consistent and inclusive activities, whether it's a run, functional fitness workout, biking, yoga class, community service, or a meet-up over coffee, Team RWB's activities facilitate veteran engagement that result in genuine relationships and connectedness with each other which assists them in transitioning back into private life as civilians.
Team RWB also sponsors Eagle Expeditions, epic adventures to national parks and the remote lands in between. On Eagle Expeditions, veterans embark on journeys that challenge the body, humble the spirit, and encourage camaraderie to last a lifetime.
Approximately 30% of Team RWB members are civilians, reducing the divide that exists between the military and the public whom they serve. Team RWB chapters and events seek to establish dialogue and interaction between veterans and civilians to find common ground.
"We're proud to once again support Team Red White & Blue," said Alan Cole, GovX CEO. "Fostering that special sense of community that's unique to the American military way of life is critically important to us, and I want to thank the GovX members for enthusiastically supporting it for another year."
Sign up here to become a member of Team RWB.
To find a Team RWB chapter located near you, click here.
ABOUT GOVX
GovX.com is for men and women of service. A members-only online destination for military and first responders, the site offers thousands of products from hundreds of brands at exclusive, below-retail pricing. Members include active and veteran U.S. military, firefighters, law enforcement officers, federal agents, healthcare workers and personnel from related government agencies. For more information, visit https://www.govx.com.