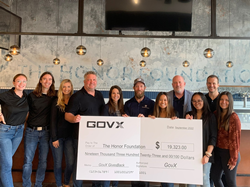 "It's an honor and a privilege to reach the million dollar threshold for the GovX Gives Back program, and I'm extraordinarily grateful to every member of our community for making this possible," - Alan Cole, GovX CEO
SAN DIEGO (PRWEB) November 04, 2022
GovX, the online shopping site exclusively for current and former military, first responders, and federal employees, is pleased to announce its GovX Gives Back Program has officially reached a new milestone! As of October 2022, GovX's charitable program has donated OVER $1 MILLION in total donations to support numerous nonprofits that serve the military, first responder, and law enforcement communities.
"This is an absolutely awe-inspiring milestone for all of us on the GovX team. Our mission to grow the GovX community empowers us to give back to Americans who serve others and are most deserving of our support," said Alan Cole, GovX CEO. "It's an honor and a privilege to reach the million dollar threshold for the GovX Gives Back program, and I'm extraordinarily grateful to every member of our community for making this possible."
GovX launched the GovX Gives Back program in 2015 to further support nonprofits
serving the military and first responder communities. Annually, the program typically raises over $200k for multiple charitable groups, with different charities receiving funds each month. So far in 2022, GovX Gives Back has donated over $200k dollars for charities and nonprofits from January through October 2022, and anticipates donating over $225k by the end of the year.
GovX Gives Back has donated funds to over 30 different nonprofits since 2015, including:
Homes For Our Troops
Adaptive Training Foundation
Angels of America's Fallen
Active Valor
The Honor Foundation
FirefighterAid
National Law Enforcement Officers Memorial Fund
Team Rubicon
Semper Fi Fund
Home Base
Our Military Kids
BentProp Project
Folds of Honor
Paralyzed Veterans of America
Green Beret Foundation
Bob Woodruff Foundation
Iraq and Afghanistan Veterans of America
Wildland Firefighter Foundation
USO
Team Red White & Blue
US Expeditions and Exploration
Oscar Mike Foundation
Sheep Dog Impact Assistance
Patriot PAWS
Dogs on Deployment
Marine Raider Foundation
Pat Tillman Foundation
Marine Reconnaissance Foundation
Brotherhood for the Fallen
555 Firefighter Fitness
Semper K9 Assistance Dogs
National Fallen Firefighters Foundation
The GovX team would like to acknowledge its members and partners who have helped to make this impressive milestone possible through purchases from the GovX catalog and the company's ongoing Patch of the Month series. GovX members have purchased over 80,000 Patches of the Month since 2015, directly translating to donations for causes that serve American heroes and their families nationwide. Through the GovX Gives Back program, GovX has proudly supported many causes for post-9/11 veterans, given back to nonprofits serving children in military families, supported disaster relief around the world, and helped adaptive athletes thrive.
"To all our members, thank you for all you do. You have helped us support causes that align with the GovX mission," adds Cole. "I am so honored to be a part of GovX's journey, and we will continue to innovate as we strive to find the best ways to support service members and their families."
GovX is dedicated to serving those who serve through the development of exclusive e-commerce channels and the support of nonprofits that provide valuable assistance to this community. To learn more about GovX, GovX ID, and GovX Gives Back, please visit http://www.GovX.com.
# # #
About GovX:
GovX.com is for men and women of service. A members-only online destination for military and first responders, the site offers thousands of products from hundreds of brands at exclusive, below-retail pricing. Members include active and veteran U.S. military, firefighters, law enforcement officers, federal agents, healthcare workers and personnel from related government agencies. For more information, visit http://www.govx.com.