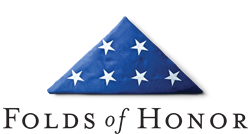 "The gift of education provides generational change and is a lasting bridge to equality." - Col. Nick Nichols, Executive VP Operations and Relationships
SAN DIEGO (PRWEB) August 13, 2021
A fundraising effort organized by GovX—the online shopping site exclusively for current and former military, first responders, and federal employees—raised nearly $12,000 for Folds of Honor, the nonprofit dedicated to military families. Folds of Honor's mission provides scholarships to spouses and children of America's fallen and disabled servicemembers. Since 2007, the foundation has awarded over 29,000 scholarships to military families.
GovX raised the amount through sales of the July 2021 Patch of the Month and orders of members-only GovX Gear athletic apparel and products. The "Liberty Ignited" Patch of the Month quickly sold out as members added the new patch to their collection. Combined, the GovX community raised $11,813 for Folds of Honor.
"We are beyond excited to partner with GovX and are so thankful for their incredible life changing support," said Col. Nick Nichols, Executive VP Operations and Relationships at Folds of Honor. "Together we can ensure that no military family is left behind on the field of battle. The gift of education provides generational change and is a lasting bridge to equality."
The mandate of Folds of Honor began when Air Force pilot Dan Rooney was flying home from his second tour of duty in Iraq. As his flight landed, the pilot announced the plane was carrying the remains of Corporal Brock Bucklin. Lt. Colonel Rooney watched as Corporal Bucklin's twin brother walked alongside the flag-covered casket to meet his family on the tarmac. Among them was the deceased Corporal's young son, Jacob.
Since witnessing that moment on the tarmac, Rooney decided to commit his life to supporting families. He founded Folds of Honor to provide scholarships and lasting support for military families like the Bucklins who face tragedy. Corporal Bucklin's son was the first Folds of Honor scholarship recipient in 2007. Since then, Folds of Honor has ensured that families who've sacrificed for their country receive educational opportunities. Whether it's K-12th grade or higher education, Folds of Honor has provided financial assistance for military families.
"Coming from a military family myself, I'm especially proud that GovX was able to donate to Folds of Honor in such a meaningful way," said Alan Cole, GovX CEO. "I want to thank the GovX community for their orders last month and for supporting this noble cause."
Learn more about Folds of Honor by visiting their website.
About GovX
GovX.com is for men and women of service. A members-only online destination for military and first responders, the site offers thousands of products from hundreds of brands at exclusive, below-retail pricing. Members include active and veteran U.S. military, firefighters, law enforcement officers, federal agents, healthcare workers and personnel from related government agencies. For more information, visit http://www.govx.com