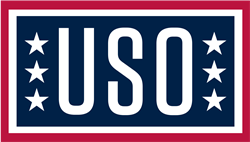 SAN DIEGO (PRWEB) July 18, 2021
A fundraising effort organized by GovX—the online shopping site exclusively for current and former military, first responders, and federal employees—raised over $12,000 for United Service Organizations (USO), the nonprofit dedicated to supporting and lifting the spirits of American troops around the globe.
GovX raised the amount through sales of the June 2021 Patch of the Month and orders of members-only GovX Gear athletic apparel and products. The "Brothers in Arms" Patch of the Month quickly sold out as members added the new patch to their collection. Combined, the GovX community raised $12,315 for United Service Organizations.
The USO is an iconic organization that has supported American servicemembers since World War II. In addition to the live performances for deployed troops featuring famous celebrities and comedians, the USO has over 250 R&R locations worldwide where servicemembers can relax, have a snack, connect with loves ones, catch a movie, or just unwind as they transition to their next assignment.
Finally, the USO's dedication to servicemembers continues even after they leave active duty, with support programs for individuals transitioning out of the military.
"In honor of our 80th anniversary this year, we are grateful to GovX for helping us give more than thanks to our military service members," said Charissa Gonzales, Regional Vice President of Development, USO West Region. "With the generous contribution of the GovX community, we will be able to provide the essential support needed to strengthen more of America's military service members throughout their journey."
"The USO is one of the most recognizable and reliable organizations supporting our men and women who serve in uniform. The services they provide military servicemembers and their families are invaluable," said Alan Cole, GovX CEO. "I want to thank everyone in the GovX community for supporting their mission."
Learn more about USO by visiting their website.
About GovX
GovX.com is for men and women of service. A members-only online destination for military and first responders, the site offers thousands of products from hundreds of brands at exclusive, below-retail pricing. Members include active and veteran U.S. military, firefighters, law enforcement officers, federal agents, healthcare workers and personnel from related government agencies. For more information, visit http://www.govx.com