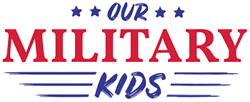 "We love to see our kids and teens gain self-confidence, make friends, and find mentors during a stressful time like a parent's deployment or recovery from combat injuries." - Kara Dallman, Executive Director (Our Military Kids)
SAN DIEGO (PRWEB) May 12, 2022
A fundraising effort organized by GovX—the online shopping site exclusively for current and former military, first responders, and federal employees—has raised $19,733 for Our Military Kids, Inc., a Veteran-run nonprofit that provides extra-curricular activity grants to military children.
GovX was able to donate to OUR MILITARY KIDS through a multi-pronged charitable effort combining individual orders from the catalog and a generous matching donation by HYLETE, the San Diego-based athletic apparel brand and long-time GovX business partner.
Our Military Kids is a 501(c)(3) nonprofit organization that supports the K-12 children of our nation's servicemembers. The nonprofit primarily assists the families of deployed National Guard and Reserve service members and the children of severely injured servicemembers and Veterans from every branch.
The nonprofit issues grants of up to $300 which help pay for activities that help children cope with the stress and anxiety many experience while their parents are deployed or recovering from injuries. The GovX Gives Back donation will enable Our Military Kids to fund at least 65 grants.
"Here at GovX, we continue to support military families as best we can," said Alan Cole, GovX CEO. "Many of us—including myself—come from military families, and it means a great deal to us personally to support an organization like Our Military Kids. I'm grateful to the GovX community and to our friends at HYLETE for contributing to our efforts last month."
"Many thanks to GovX and HYLETE for funding 65 extracurricular activity grants for Our Military Kids," said Kara Dallman, Executive Director and retired Navy Veteran. "We love to see our kids and teens gain self-confidence, make friends, and find mentors during a stressful time like a parent's deployment or recovery from combat injuries."
Learn more about Our Military Kids by visiting their website.
ABOUT GOVX
GovX.com is for men and women of service. A members-only online destination for military and first responders, the site offers thousands of products from hundreds of brands at exclusive, below-retail pricing. Members include active and veteran U.S. military, firefighters, law enforcement officers, federal agents, healthcare workers and personnel from related government agencies. For more information, visit http://www.govx.com