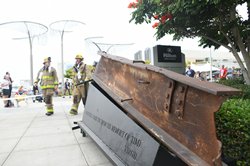 GovX Gives Back recently surpassed $1 million in total donations to nonprofits serving the military and first responder communities.
SAN DIEGO (PRWEB) October 06, 2022
GovX, the online shopping site exclusively for military and first responders, has donated a total of $23,654 to FirefighterAid for the month of September. FirefighterAid is a nonprofit that offers charitable assistance to professionals of the firefighting community, including wildland, structural, full-time firefighters, and part-time volunteers. As part of the fundraising efforts for the month, GovX also supported and participated in FirefighterAid's 2022 San Diego 9/11 Memorial Stair Climb on September 10th. The event raised over $100,000 for the firefighter community and honored the 343 firefighters who lost their lives responding to the 2001 terrorist attack.
GovX's monthly donation is part of the ongoing GovX Gives Back charitable initiative, raising funds for nonprofits serving the military and first responder community. This multi-pronged effort combined individual orders from the GovX catalog and a generous supplementary donation of $7,884 from Aventon Bikes, the Southern California-based e-bike brand.
"We are so appreciative of the extraordinary support from GovX this year," shared Sara Berns, Executive Director of FirefighterAid. "Coming off of the pandemic and having to cancel our fundraising events for two years, this type of support means even more for our organization and more so for the firefighters we help who never stopped being there for us."
GovX Gives Back will support C.O.P.S. (Concerns of Police Survivors) for October's initiative. C.O.P.S. is a nonprofit focused on rebuilding shattered lives of survivors affected by line-of-duty deaths. Survivors include spouses, children, parents, siblings, significant others, and co-workers of officers who have died in the line of duty. C.O.P.S. programs include counseling, peer support, retreats and activities for kids, legal support, and more for families and coworkers recovering from the loss of a loved one. To learn more about C.O.P.S., visit concernsofpolicesurvivors.org.
"At GovX, we are always looking for the best ways to support our community and the organizations that serve our community. We couldn't be more honored to partner with C.O.P.S. in October and help support their crucial work of providing resources for those lost in the line-of-duty," said GovX CEO Alan Cole.
Funds for the GovX Gives Back donations come from GovX's Patch of the Month proceeds, as well as GovX Gear sales. For the month of October, GovX brand partner Luminox, a cutting-edge luminescence and high-performance sports watch brand, will be matching 50% of GovX's donation.
GovX Gives Back recently surpassed $1 million in total donations to nonprofits serving the military and first responder communities. To support GovX.com's charitable initiatives, make a direct donation, or learn more, visit GovX.com/t/govx-gives-back.
To learn more about GovX and GovX Gives Back, please visit http://www.GovX.com.
# # #
About GovX:
GovX.com is for men and women of service. A members-only online destination for military and first responders, the site offers thousands of products from hundreds of brands at exclusive, below-retail pricing. Members include active and veteran U.S. military, firefighters, law enforcement officers, federal agents, healthcare workers and personnel from related government agencies. For more information, visit http://www.govx.com