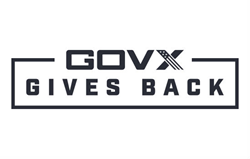 As we grow, we're expanding our ability to make a bigger impact for these worthy causes through direct contributions and advocacy. Our success as a business must be measured beyond the bottom line. - Alan Cole, GovX CEO
SAN DIEGO (PRWEB) June 04, 2019
The charitable efforts of GovX—the online shopping site exclusively for current and former military, first responders, and federal employees—reached a significant milestone at the beginning of June, when the total funds raised for nonprofits dedicated to American uniformed pros exceeded $250,000.
Since the inception of GovX's inaugural Give Back program in October of 2015, which sponsored US Expeditions and Exploration—a 501c3 nonprofit that organized an Army-led team to the summit of Mount Everest—GovX has since donated to a total of 26 non-profits.
"Since launching GovX Gives Back, we have worked with organizations that support every branch of the military, law enforcement, firefighters and their families," said Alan Cole, GovX CEO. "As we grow our core business, we're also expanding our ability to make a bigger impact for these worthy causes through direct contributions and advocacy. This genuine commitment to the mission is what attracts great team members to GovX, and we truly believe that our success as a business must be measured beyond the bottom line."
Recipients of GovX Gives Back donations include:

US Expeditions and Exploration
Homes For Our Troops
FirefighterAid
National Law Enforcement Officer Memorial Fund
Team Rubicon
Sheep Dog Impact Assistance
Patriot PAWS
Dogs on Deployment
MARSOC Foundation
Pat Tillman Foundation
Marine Reconnaissance Foundation
Brotherhood for the Fallen
Semper Fi Fund
555 Firefighter Fitness
Our Military Kids
Semper K9 Assistance Dogs
BentProp Project
Oscar Mike Foundation
Paralyzed Veterans of America
Green Beret Foundation
Bob Woodruff Foundation
National Fallen Firefighters Foundation
Iraq and Afghanistan Veterans of America
Wildland Firefighter Foundation
Team Red White & Blue
During the month of June, GovX is expanding its fundraising efforts with a new program. GovX is selling an exclusive patch commemorating the 75th anniversary of the D-Day invasion of World War II. Proceeds from each patch sold will go directly to Workshops for Warriors, a veteran-focused non-profit school that teaches transitioning service members vital manufacturing and machining skills and places them in professional careers in American industries.
Verified GovX members can purchase the 75th Anniversary Patch of the Month here.
ABOUT GOVX
GovX.com is for the men and women who protect our country and communities. The members-only eCommerce site offers thousands of products from hundreds of premium brands at exclusive, below-retail pricing. Eligible members include active and veteran U.S. military, firefighters, law enforcement officers and federal agents. Membership is free and more information can be found at GovX.com.