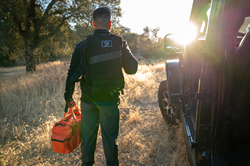 "As an experienced and successful leader with a deep understanding of the athletic apparel process, Shaun [Albin] brings over 20 years of innovating and growing brands to GovX." - Alan Cole, GovX CEO
SAN DIEGO (PRWEB) November 22, 2022
GovX, the online shopping site exclusively for current and former military, first responders, and federal employees, is pleased to announce Shaun Albin has joined the GovX team as Director of its private label, GovX Gear. GovX Gear is the apparel line created specifically with service members in mind and recently added over 20 new products and colors. In his role, Albin will drive future growth of the exclusive apparel, and contribute to the company's marketing and business strategies to expand the line, which also provides an important fundraising opportunity for the GovX community.
"As an experienced and successful leader with a deep understanding of the athletic apparel process, Shaun brings over 20 years of innovating and growing brands to GovX," said Alan Cole, GovX CEO. "With Shaun on our team, we are poised to reinvigorate our exclusive line that is created specifically for patriots, while also providing important funds for our charitable efforts."
Albin comes to GovX with an extensive background as an innovative apparel creation professional with 20+ years in the industry. His experience includes 13 years with Nike Inc., where he led development in apparel for Nike's Jordan Brand as well as project management, product innovation, and consulting expertise. Albin's knowledge in product development and strategy will guide the exclusive line in innovating and growing in order to provide products designed especially for GovX members' wants and needs.
"I'm excited to be a part of the GovX team. I love what the company stands for, serving those who serve," said Shaun Albin, Director of GovX Gear. "I've always admired the strength and determination of the military and first responder personnel. I'm happy to be able to contribute my apparel knowledge and leverage our consumers' feedback to offer the best gear possible at an affordable price."
Albin joins the GovX team following its recent launch of new GovX Gear, which released 23 more fitness and lifestyle products and colors in October. The latest gear includes new men's apparel such as the durable Aegis Tactical Jacket, the ultra-lightweight Overlander Trail Pants, new colors of the Archon Shorts designed for flexible functionality, as well as more tops, shorts, joggers, and jackets. The new women's products feature a unique asymmetrical Hera Mesh Cross Bra, the soft and lightweight Hemera Full-Zip Hoodie, additional colors of the popular Artemis Shorts, and more.
GovX Gear is more than great gear at affordable prices, it is also an important channel for GovX's charitable initiative branch, GovX Gives Back. A portion of all GovX Gear sales goes toward each month's featured nonprofit organization that is important to military and first responder communities. Since its creation in 2015, GovX Gives Back has donated over $1 million to nonprofits, and over $250k in 2022 alone with multi-pronged fundraising efforts including GovX Gear sales. November's nonprofit beneficiary is Team Red White & Blue, which aims to enrich the lives of America's veterans by connecting them to their community through physical and social activity.
"GovX Gear is a major channel for our monthly fundraising efforts," added Cole. "With 5% of every GovX Gear order and 100% of our Patch of the Month proceeds providing the majority of our donations, Shaun's new role as Director of GovX Gear is important and exciting for both our brand and our community."
GovX is dedicated to serving those who serve by offering the best prices on top brands and creating a platform where members can support the important work that organizations are doing for the community with products like GovX Gear. To learn more about GovX and GovX Gear, please visit http://www.GovX.com.
# # #
About GovX:
GovX.com is for men and women of service. A members-only online destination for military and first responders, the site offers thousands of products from hundreds of brands at exclusive, below-retail pricing. Members include active and veteran U.S. military, firefighters, law enforcement officers, federal agents, healthcare workers, and personnel from related government agencies. For more information, visit http://www.govx.com.