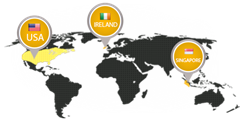 (PRWEB) June 17, 2014
App42 PaaS now extends its GPaaS services to Europe and Asia Pacific. This is a great news for their present and potential developers as it will enable them to overcome latency issues, thereby, making their apps successful on the cloud.
Latency being one of the primary factors, it holds the authority to decide the success of an App. Experience of the end users depends on the minimum response time and if that is reduced, your user will be happier and this rests on the location of an app user. If the distance between a server where application is hosted and its end users is quite a lot, latency will be high. This issue becomes further more important in the case of real time gaming server applications where end users connect to each other and exchange the messages in real time. Location of the game server plays also impact the round trip time with the clients.
To assist the developers in overcoming these latency issues, App42 GPaaS has announced effective services to Europe (Ireland) and Asia Pacific (Singapore). Now, the developers will be able to host their GPaaS server application to the nearest server from your end user's location.
About ShepHertz
ShepHertz is a Cloud Ecosystem Provider for Apps i.e. Mobile, Web, Social, Gaming and TV Apps. Its endeavour is to make App developers successful on the Cloud, irrespective of the technology or platform on which they are developing. Their product line provides one-stop-shop ecosystem for developing Apps on the Cloud and it consists of App42 Cloud API – BaaS (Backend as a Service), AppWarp- Multiplayer Gaming Engine, App42 PaaS with App42 BPaaS & GPaaS solutions.