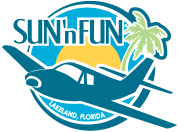 The worlds best GPS Tracker - Tracking anything that moves... anywhere.
Lakeland, FL (PRWEB) April 28, 2014
US Fleet Tracking, a well-known provider of fleet tracking and their partner FLS MicroJet, attended the 40th Annual Sun 'n Fun International Fly-In & Expo. This annual event was held in Lakeland, Florida from April 1 – 6, 2014.
These two companies are teamed up to demonstrate US Fleet Tracking's GPS Tracking hardware and software, and show all of the Expo attendees how this service can make fleet management simple.
US Fleet Tracking is the worldwide leading provider of fleet management services (GPS Tracker) to businesses and large scale public events; their fleet tracking services improve planning and logistics and make businesses more efficient.
The FLS Microjet, World's Smallest Jet is based on the BD-5, an airplane designed in 1970 by aircraft designer Jim Bede. It has been thrilling audiences at air shows all around the world for over 40 years and even made an appearance in the James Bond movie Octopussy. In 2011, this aircraft design was completely updated and rebuilt as the FLS Microjet. This aircraft now features modern avionics and flight characteristics, making it more dynamic and exciting than ever.
By using the US Fleet Tracking real-time tracking services, FLS Microjet has made the training program for pilot Justin "Shmed" Lewis more effective, and made the show even more exciting for audiences. The historical tracking gives Justin the tools to review every training session and performance. Before each performance, the US Fleet Tracking live tracking view offers up to the minute weather and cloud cover information.
Together US Fleet Tracking and FLS Microjet make a formidable team. If you operate a fleet of vehicles, cars, trucks, boats, or even airplanes, make US Fleet Tracking your partner for your fleet management. Fleet tracking can improve your bottom line by giving you tools for tracking, dispatching and managing your vehicles from any web enabled platform, including smartphones. US Fleet Tracking supports the FLS Microjet; let them be your partner too.
Visit US Fleet Tracking at: http://www.usfleettracking.com.