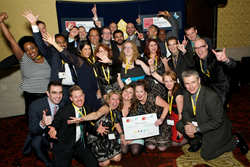 This award was a huge part of our vision. But now, it's time to get back to work and build the best place to work in the world. - Jason Atkins, CEO 360incentives
Whitby, Ontario (PRWEB) April 17, 2014
When Jason Atkins, CEO 360incentives set out to start his new business back in 2008, he established one simple principle to guide the way. "I thought about everything that people do in their work, and in their lives – what they work for, really. I realized it only comes down to one thing – happiness," says Atkins. Sounds simple enough, but where does it fit into a growing corporate enterprise?
At yesterday's Great Place To Work conference in Toronto, Atkins presented a keynote and answered some of the tough questions around quantifying the return on a company's culture efforts.
"For us, it's really straightforward – we won a deal that effectively doubled our company because the buyer saw the level of day-to-day happiness in our offices and realized the effect it would have on her own business. We deal with hundreds of our clients' customers each day and having happy people taking care of them is great for our clients' business. Happiness is self-perpetuating."
"So, as far as ROI goes, the generally accepted churn rate for a SaaS business such as ours is around fifteen percent or higher. For us, it's zero. We can calculate that since we got intentional about our culture, the return on our investment has been a bit over three million dollars," says Atkins.
Last night, the company received official validation for their cultural efforts in the form of a prestigious Great Place To Work award, bagging the prize for number one best medium-sized company to work at in Canada.
"This award was a huge part of our vision, and I have to thank our friend Todd Skinner whose dream it was to have 360 win this award and who put us onto this path. But now, it's time to get back to work and build the best place to work in the world.
For more on measuring the return on company culture, check out 360's free e-book The Case For Culture At 360incentives.