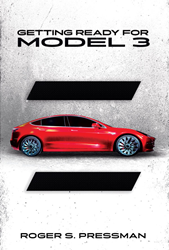 This book answers their questions and provides a roadmap for those who want to better understand the car.
DEERFIELD BEACH, FL (PRWEB) September 09, 2016
In an industry first, this year 400,000 people paid $1,000 each to reserve a Tesla Model 3 — the company's first vehicle aimed at the mainstream market – and representing a potential $14 billion in orders. Despite the colossal outpouring of interest, many of these people know relatively little about Model 3 or what needs must be considered in transitioning to a battery electric vehicle (BEV) and true 21st century mobility.
In celebration of NATIONAL DRIVE ELECTRIC WEEK, a new book, Getting Ready for Model 3 has been written by Roger Pressman. Pressman is the founder of EVANNEX, the largest Tesla aftermarket accessories company. The book distills the countless questions buzzing about the world's most anxiously awaited car into a cohesive, well-structured whole. As a consequence of the author's unique insider's perspective formed from a longstanding expertise with Tesla Motors and Tesla owners, first-hand experience with the Model 3, and participation in forums, blogs, auto magazines, websites, and social media, Getting Ready for Model 3 provides a valuable reference for those on the vehicle's long reservation list, as well as anyone interested in Tesla Motors and the future of electric vehicles.
Getting Ready for Model 3 has been written in a friendly, non-technical style, making it useful for electric vehicle enthusiasts and also EV neophytes. The book addresses the following issues:

Examines the exterior and interior of Model 3 with exclusive photos,
Clarifies important issues like range and "range anxiety,"
Discusses and explains what is known about the car's tech,
Considers the decisions that will be required as each owner configures their Model 3;
Offers a preview of Model 3's autonomous driving features,
Explains how to develop a personal charging infrastructure for owners of the car,
Delineates the costs of ownership, and
Provides a targeted, quantitative method for estimating when the car will be delivered to reservation holders.
In an interview discussing the book and the Model 3 culture, Pressman stated: "Many of the hundreds of thousands of people who plunked down $1,000 for Model 3 know relatively little about battery electric vehicles and almost nothing about what they have to begin doing now to prepare for Model 3. This book answers their questions and provides a roadmap for those who want to better understand the car."
From the book:
"It is important for you to understand why the Model 3 performs the way it does, if for no other reason than it will help you answer the questions that will come from your friends when they hop in the car…"
"Your Model 3 will 'look' everywhere at once. As a consequence, your car may very well drive itself… safely."
"Range anxiety is driven as much by emotion as by any real fear that you'll actually run out of battery charge."
"Tesla Time is real, and it has to be taken into account whenever projections for delivery dates are made."
Getting Ready for Model 3, by Roger Pressman, will be published as a paperback original on September 9, 2016 and available to order via evannex.com. In addition, a sample chapter of the book is available for free at evannex.com.