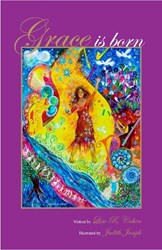 "For sages of all ages, wearing the face of every race, talking the tongue of everyone."
(PRWEB) December 05, 2013
Grace is Born is a spiritual gift book written by Lisa R. Cohen that seeks to inspire readers belonging to different faiths, age groups and demographics. Beautifully rendered with visually appealing illustrations, the book is currently part of a crowdfunding campaign to reach a wider audience. The Kickstarter link for Grace is Born can be viewed here: crowdfunding campaign.
Since the campaign's deadline of December 11, 2013 is less than a week away, Lisa will be looking forward to active contributions from donors on an urgent basis. The funding goal is $22,000.
An excerpt from the book states that Grace is Born is "for sages of all ages, wearing the face of every race, talking the tongue of everyone." True to its words, the book is an easy read and highly engaging as well.
The reason why Lisa R. Cohen chose to write this book is a story in itself. Years ago, Lisa turned to food, excessive activity and what she refers to as the drama of trauma to mute her rising sense of daily panic. Like most panic-stricken people, Lisa "was led astray into the maze of madness, wondering from end to end, only to find herself beginning again." (Excerpt from Grace is Born)
Caught in a trap of anxiety, she longed to be rescued. It was then that a group of friends took her to a self help group. Lisa's involvement with the group helped her take a new direction in life – she began on a journey of spiritual, emotional and physical healing which led her to embrace a "higher power," nurture interdependent relationships, and live a life of service. Lisa R. Cohen stated that her "meditative writing" practice, which she describes as being "layered with prayerful dialogue," moved her to write Grace is Born.
Apart from being an author, Lisa has provided speech, language and cognitive therapy services for more than 27 years. Her specialty is brain injury rehabilitation, advocacy and prevention. Lisa R. Cohen's role as a therapist has helped give the book a new dimension – an ability to bring peace and calm of mind to many who read it.
Lisa spent 9 months writing Grace is Born and completed it just before Thanksgiving 2010. She commissioned Judith Joseph, an internationally renowned artist, to paint Grace is Born's visionary presence. She then had Lisa Kaczer – a gifted graphic designer – convert the original painting into cover and interior images for the book.
June 2013 witnessed the launch of Sparkle Press, LLC to produce, market and distribute Grace is Born in the following formats: hardback, e-book, Braille and a video version featuring an interpretation in American Sign Language (ASL) by a well-known deaf actress.
Through this crowdfunding campaign, Lisa R. Cohen hopes to obtain the funding necessary to make the book's publication in accessible formats a reality. Those who pledge to support this book will be invited to join InSparkle Compassion, a hub for "Guardians of Light" (featured in Grace is Born) to gather and channel universal love.
InSparkle Compassion is intended to activate accountability, identify community needs and resources, to help people worldwide in need of compassion and support.
Those who pledge $22 will get a hardback copy of Grace is Born along with an email invitation to join InSparkle Compassion on Facebook. By pledging $136, donors can take part in the premiere party at the Poets House in New York City on June 28, 2014.
Contact
Lisa R. Cohen looks forward to a successful Kickstarter campaign. She can be contacted through any of the following options to answer queries regarding the project.
Email: sparklepress(at)gmail(dot)com
Phone: 856-264-4027
Website: http://www.graceisborn.com/