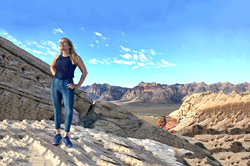 San Diego, CA (PRWEB) October 20, 2016
Women's premium athletic apparel company GRACEDBYGRIT is bringing their brand to Tivoli Village, an incredible destination for shopping and dining frequented by Las Vegas locals. Tivoli Village is completing phase two and will open the same night that upscale home-furnishings retailer Restoration Hardware opens its largest United States store. It will be a perfect fit for GRACEDBYGRIT to be in the company of amazing restaurants, world renowned gym DavidBartonGym, and many other esteemed local businesses. The GRACEDBYGRIT Las Vegas location will be open for three months, from October 28th to January 31st, 2017.
This is a great opportunity for GRACEDBYGRIT to enter a community of active, fitness-minded women. Tivoli is known for being a great place for locals to spend an entire day or night with friends and family. Events in the village square include Zumba classes, a Saturday farmers market, FIT4MOM meet-ups and live music. GRACEDBYGRIT plans to partner with local businesses to bring special events to the pop-up space including yoga classes, bootcamps and their GRITTYGIRLS series: a workshop designed to empower young women, typically ages 8 to 12, to cultivate their grit and find their grace, taught by GRACEDBYGRIT's certified health and life coach, Sarah Andersen.
GRACEDBYGRIT employees from Solana Beach, California, will be in Las Vegas to bring the brand's California roots and authenticity to the new space. GRACEDBYGRIT is hiring local athletic women with retail or sales experience to work in the store alongside current GRACEDBYGRIT employees. "We are so excited to bring our incredible athletic apparel to Las Vegas. The built-in sun protection and safety components in all products will be perfect for outdoor hiking, biking and running," says GRACEDBYGRIT Co-Founder and CEO Kimberly Caccavo.
Pop-up hours will follow Tivoli Village hours and is located at 350 S. Rampart Blvd, Suite 170, Las Vegas, NV 89145. For employment inquiries or to collaborate on an event, please email sales@gracedbygrit.com. Locals can follow the GRACEDBYGRIT Facebook page to stay informed about the pop-up's grand opening and special events. There will be exclusive items for sale, special deals, free community workout classes and more.
ABOUT GRACEDBYGRIT
GRACEDBYGRIT is a women's athletic apparel brand based in Solana Beach, CA, founded in 2013 by Kimberly Caccavo and Kate Nowlan after recognizing the need for high performance, flattering, and safe workout gear for women. GRACEDBYGRIT designs and manufactures premium athletic apparel that makes women feel confident, safe, and motivated to be active. All manufacturing is done in San Diego with fabrics imported from Italy. GRACEDBYGRIT is an emerging leader in the activewear industry, where US activewear sales reached $34.5 billion for the fiscal year ending June 2015, according to The NPD Group. For more information, please visit http://gracedbygrit.com/about-us.html.