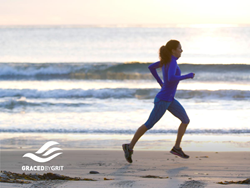 San Diego, CA (PRWEB) September 02, 2016
Women's athletic apparel company GRACEDBYGRIT has partnered with its first run specialty account, Movin Shoes, to cater to runners and active women all across San Diego. This partnership is exciting news for the local running community of San Diego that continually looks for new brands to improve their performance. As strong members of the community, GRACEDBYGRIT and Movin Shoes are dedicated to providing athletes with the tools they need to achieve their fitness goals.
This partnership is especially meaningful for the GRACEDBYGRIT internal team; the idea for GRACEDBYGRIT was conceived during a run between entrepreneurs Kimberly Caccavo and Kate Nowlan after the death of San Diego teen Chelsea King, who was killed while trail running. This tragedy inspired Caccavo to train for a triathlon in Chelsea's honor and hire Nowlan as her coach. Because running is a core sport for both GRACEDBYGRIT employees and customers, avid marathon runner and GRACEDBYGRIT Retail Sales Manager, Annie Adams, knew it was time to partner with Movin Shoes to get more engaged with the San Diego running community.
For nearly 40 years, Movin Shoes has been a community-based resource center for customers, providing product knowledge, encouragement, and training programs. Movin Shoes Owner Bob Kennedy comments, "Movin Shoes is excited to bring GRACEDBYGRIT into our store apparel mix. We're thrilled to partner with another local company committed to inspiring people to strive for their best. Add GRACEDBYGRIT's commitment to high quality fitness apparel designed specifically for women and it's a perfect fit for Movin Shoes."
GRACEDBYGRIT and Movin Shoes understand why fitness is such an important part of the lives of San Diegans. Together, the two companies, who are passionate about serving athletes, will motivate and encourage even more women to get active. GRACEDBYGRIT apparel is now available for sale at both Movin Shoes locations: 897 S. Coast Hwy 101, Encinitas, CA 92024 and 1892 Garnet Avenue, San Diego, CA 92109.
ABOUT GRACEDBYGRIT
GRACEDBYGRIT is a women's athletic apparel brand based in Solana Beach, CA, founded in 2013 by Kimberly Caccavo and Kate Nowlan after recognizing the need for high performance, flattering, and safe workout gear for women. GRACEDBYGRIT designs and manufactures premium athletic apparel that makes women feel confident, safe, and motivated to be active. All manufacturing is done in San Diego with fabrics imported from Italy. GRACEDBYGRIT is an emerging leader in the activewear industry, where US activewear sales reached $34.5 billion for the fiscal year ending June 2015, according to The NPD Group. For more information, please visit http://gracedbygrit.com/about-us.html.
ABOUT MOVIN SHOES
Since opening in December of 1977, Movin Shoes has been the community magnet attracting and serving San Diego's runners and walkers, both experienced and new. Owner Bob Kennedy, an Olympic runner who is passionate about helping people live healthy, active and happy lives, decided to purchase Movin Shoes a few years ago. Kennedy and the entire Movin Shoes staff have a singular goal to help everyone achieve their health and fitness goals, whatever they may be. Movin Shoes is extremely knowledgable about getting customers the correct shoes and other running and walking gear they will need throughout their fitness journeys.