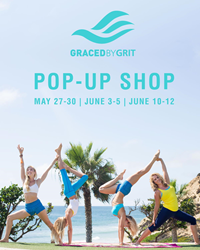 SAN DIEGO, California (PRWEB) May 26, 2016
Women's athletic apparel company GRACEDBYGRIT is coming to Santa Barbara this Memorial Day weekend to host their second pop-up shop for three consecutive weekends. The pop-up shop is a great way to introduce the San Diego fashion forward brand to the Santa Barbara community, a community full of women who appreciate the most premium goods and vibrant events. Beyond showcasing the newest GRACEDBYGRIT styles and displaying Surftech surfboards, the company is also collaborating with local companies to host free fitness classes and provide free juice and cocktails to customers.
With GRACEDBYGRIT coming to Santa Barbara for the first time, the collaborations they have developed with local health and fitness businesses will be key to the success of the pop-up. Collaborations include free fitness classes hosted by Santa Barbara Fit Body Boot Camp (FBBC) and free juice samples from Juice Ranch. All partners hope local women will stop by not only to shop, learn about a new athletic company and the women behind it, but also support their favorite local businesses.
The pop-up shop is located at 1309 State Street, Santa Barbara, CA 93101. The iconic State Street location downtown is a highly pedestrian-location, famous for being a shop-lined street where locals and tourists spend the day shopping, strolling, and just enjoying the weather and the beautiful city. Construction has been hard at work to transform the space into a retail space, built to be modern and open. Just a few blocks down is the Arlington Theatre, a historic Mission-revival theater.
The opening night of the pop-up is this Friday, May 27th, at 5 PM, where GRACEDBYGRIT Co-Founder Kate Nowlan will be present to meet media, locals, and the first shoppers. Cocktails will be served to kick off the first weekend. Weekend hours for all three weekends are Friday from 5 PM to 9 PM and Saturday and Sunday from 9 AM to 6 PM. For Memorial Day weekend only, the shop will also be open on Monday from 9 AM to 5 PM.
Please contact GRACEDBYGRIT Co-Founder Kate Nowlan at kate(at)gracedbygrit(dot)com for more information.
ABOUT GRACEDBYGRIT
GRACEDBYGRIT is a women's athletic apparel brand based in Solana Beach, CA, founded in 2013 by Kimberly Caccavo and Kate Nowlan after recognizing the need for high performance, flattering, and safe workout gear for women. GRACEDBYGRIT designs and manufactures premium athletic apparel that makes women feel confident, safe, and motivated to be active. All manufacturing is done in San Diego with fabrics imported from Italy. GRACEDBYGRIT is an emerging leader in the activewear industry, where US activewear sales reached $34.5 billion for the fiscal year ending June 2015, according to The NPD Group. For more information, please visit http://gracedbygrit.com/about-us.html.