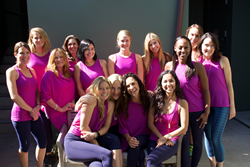 San Diego, CA (PRWEB) June 21, 2016
Women's athletic apparel company GRACEDBYGRIT hosted a one year anniversary party at their flagship store in Solana Beach last week. Although this was an important milestone for the company, incorporated in 2013, the store's anniversary was only one part of the celebration. With so much success thus far in 2016, GRACEDBYGRIT is becoming more than an apparel brand; they are becoming a leader in their community.
GRACEDBYGRIT has launched a series of successful in-store events to attract strong, gritty women, including the Gritty Girls Series, Pretty & Gritty, and charity functions. These events focus on health, beauty and wellness to empower young girls and women. As summer approaches, the brand is working with local gyms and studios to book weekly workout classes at their Solana Beach store. For customers outside of San Diego, GRACEDBYGRIT is filming exercise videos to host virtual workouts on their blog and social media.
The community aspect is really what sets GRACEDBYGRIT apart. This month, they joined the United State of Women movement to pledge what they are doing as a company to empower and celebrate women. Their followers on social media also made pledges to inspire change. The company's team members prioritize getting to know their customers and community partners to build long-lasting relationships. "We are working to build a community that celebrates the strength of women and girls," said Kimberly Caccavo, GRACEDBYGRIT Co-Founder and CEO.
GRACEDBYGRIT attributes a large part of their success to their growing group of brand influencers. Their Influencer Program, now at over 200 women around the country, gives influential women a platform to share their health and fitness wisdom with an even larger audience. Standing behind a company like GRACEDBYGRIT, that values women's empowerment and prioritizes wellness, allows fitness instructors, entrepreneurs, and active women to achieve more. Influencers host Fit Shops around the country, many benefiting charities, and host fitness events in their communities.
ABOUT GRACEDBYGRIT
GRACEDBYGRIT is a women's athletic apparel brand based in Solana Beach, CA, founded in 2013 by Kimberly Caccavo and Kate Nowlan after recognizing the need for high performance, flattering, and safe workout gear for women. GRACEDBYGRIT designs and manufactures premium athletic apparel that makes women feel confident, safe, and motivated to be active. All manufacturing is done in San Diego with fabrics imported from Italy. GRACEDBYGRIT is an emerging leader in the activewear industry, where US activewear sales reached $34.5 billion for the fiscal year ending June 2015, according to The NPD Group. For more information, please visit http://gracedbygrit.com/about-us.html.