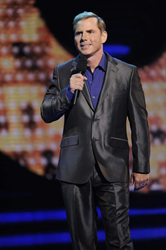 His humor is timely and hilarious; nothing is off limits.
Bangor, Maine (PRWEB) September 29, 2015
Tom Cotter, a high energy, rapid-fire comedian, is coming to the Gracie Theatre at Husson University on Thursday, October 1 with shows at 7 and 9 p.m. This performance is the first of the Gracie's current season. The season is sponsored by Bangor Savings Bank with Cotter's performance sponsored by Downeast Toyota.
"Tom is a quick-witted comic whose success on America's Got Talent was well-deserved," said Jeri Misler, managing director of the Gracie Theatre. "His humor is timely and hilarious; nothing is off limits."
Last year, Tom Cotter became the first comedian to reach the finals of NBC's "America's Got Talent" (AGT). The show catapulted him to the comedic stratosphere. Rolling Stone magazine said of his AGT performance, "Cotter was a smash. His jokes were effortlessly witty, his timing was exact and, above all, he looked completely at ease."
Before his historic run on the world's largest talent competition, the New England native was a familiar face on television shows like "The Tonight Show with Jay Leno," NBC's "Last Comic Standing" and a "Barbara Walters Prime-Time Special," among many others. Along with his wife and fellow-comic Kerrie Louise, he starred in his own WE reality series called "Two Funny."
Since moving to New York City, Tom filmed his very own Comedy Central special, "Comedy Central Presents...Tom Cotter." He was also featured in the Miramax film, "Next Stop Wonderland."
Opening the evening is comic Karen Morgan, a former trial attorney who began her professional comedy career as a finalist on Nickelodeon's "Search for the Funniest Mom in America." Since then, Karen has performed in comedy clubs and performing arts centers around the world.
Tickets for the show are $20.00 each and are available at GracieTheatre.com or by calling 207-941-7888.
Completed in October of 2009, The Gracie is Husson University's center for the fine and performing arts. This beautiful new 500-seat theatre is quickly earning a reputation as one of Maine's premier performance venues. In addition, The Gracie also serves as a learning platform for students from the New England School of Communications in digital audio, sound mixing, set design and construction, lighting, acting and electronics. For more information, visit GracieTheatre.com
For more than 100 years, Husson University has prepared future leaders to handle the challenges of tomorrow through innovative undergraduate and graduate degrees. With a commitment to delivering affordable classroom, online and experiential learning opportunities, Husson University has come to represent superior value in higher education. Our Bangor campus and off-campus satellite education centers in Southern Maine, Wells and Northern Maine provide advanced knowledge in business; health and education; pharmacy studies; science and humanities; as well as communication. In addition, Husson University has a robust adult learning program. For more information about educational opportunities that can lead to personal and professional success, visit Husson.edu.
# # #