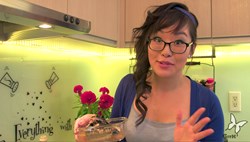 Graci In The Kitchen [is a] 'new trailblazer in a genre confined by familiar branding formulas'.
Taipei, Taiwan (PRWEB) October 17, 2013
Dubbed a "sensualist", Graci's style has been likened to kitchen goddesses Nigella Lawson and Giada de Laurentiis. In fact, international television network KoldcastTV, seen in over 200 countries, heralded GITK as a "new trailblazer in a genre confined by familiar branding formulas."
Originally starting as a modest YouTube channel, GITK season one was picked up and broadcast over a number of different TV-On-Demand networks, reaching almost a million viewers within its first year.
Graci is a Korean-born, New Zealand diplomat nearing the end of her two-year, full immersion Mandarin training in Taipei, Taiwan before moving to Beijing, in 2014. This award-winning social entrepreneur and "AsiaNZ Young Leader" still manages to find the time to sate her obsession with food by producing a TV series.
The show is about "moody food". Graci explores how food can affect your mood through eating a combination of foods and flavours, vitamins and minerals proven to have a positive impact on your body. "When I'm having an ugly day, I often make a meal using prawns because the Zinc in prawns help produce new hair and skin cells, helping us look vibrant and healthy. Plus, they are delicious!" In Episode 4: Feeling Ugly, Graci does indeed make "Garlic Chilli Prawns and Pesto Couscous", after sourcing her prawns from a local Taiwanese "shrimping" (shrimp fishing) joint.
While gallivanting around her favourite spots in Taipei for inspiration and sampling exotic treats, Graci introduces traditional recipes with a twist, or makes original creations using ingredients from all her homes: New Zealand, Korea and Taiwan. With support from New Zealand chocolate mogul Whittakers and Taiwanese tea company Tearroir, Graci infuses her favourite Dark Ghana chocolate with Matcha tea to make "Macadamia Tea Chocolate Crackers". These treats feature in Episode 8: Feeling Tired, where she explains how these treats help your tired mood.
Graci, through her unique take on the everyday cooking show, hopes to inspire young foodies to discover the joy of cooking, and to spread the quirky concept of delicious moody food.
Season 2 is launching on 24th October 2013 and episodes can be found at http://www.GraciInTheKitchen.com