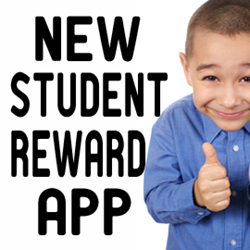 Let's encourage students everywhere, every day
Tampa, FL (PRWEB) March 21, 2014
Would anyone want to work for over a decade without a paycheck, bonus or any ongoing incentives? Why do we expect our students to face this, and expect them to understand the value of an education pay-off so far out?
To address this need for frequent encouragement through student rewards, a new Indiegogo campaign Gradefy App! (http://igg.me/at/gradefy) was launched in March 2014 to crowdfund the creation of a new mobile app called Gradefy. The goal of creating this mobile app and website is to enable students everywhere the ability to exchange their grades for stuff through the most accessible delivery channels, via internet and mobile phones. Report card grades are never stored, since the grades are immediately converted into reward points. The students can use these points to shop for desired rewards, both virtual and real. Gradefy is fun, social and completely free. It is the answer to failed "cash for grades" or hyper-localized reward programs. This app will not only encourage, but it will empower students daily, while implementing a touch of social positive peer pressure to achieve more.
"A couple years ago, I was struck by how much my own kids toiled away on their homework, striving for grades for which they didn't understand the value. I get a performance bonus yearly, plus I earn a paycheck semi-monthly, from which I can feel empowered daily. I pondered why it was acceptable for adults, but not for students," says Chad Whitaker, co-founder of Gradefy. "Then it finally clicked just how big a problem this was when I began working with troubled underprivileged students. My own kids receive positive reinforcement, but I've seen so many kids who have to face home environments which have an incredibly negative impact on their student life. How could they ever be reached and encouraged? This is when I had an idea for encouraging students online, and eventually through a mobile application."
Although as a nation, we have hit a 40-year high in high school graduation rates, the United States is still in the middle of the pack when compared to rest of the world. So there is a tremendous opportunity in our own backyard, to reach out and encourage the 70+million students in order to achieve more while in school.
Please visit the active Gradefy Indiegogo campaign http://igg.me/at/gradefy, which ends April 30, 2014. It's a fixed campaign type, so the entire goal must be met in order for Gradefy to receive any of the pledged funding. For those who don't want to donate the dough, a supporter can earn one of the perks simply by getting ten friends to pledge and mention who to credit. As Chad says, "Let's encourage students everywhere, every day."