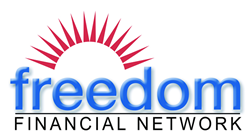 What appeals to many young adults is saving for the freedom to make choices after their original working life draws to a close, whether that is in 10, 30 or 50 years.
San Mateo, CA (PRWEB) May 17, 2016
With graduation season in full swing, many new college graduates are heading into the workforce – and as soon as they get those new jobs, they should start planning to leave them by saving for retirement, says Kevin Gallegos, vice president of Phoenix operations for Freedom Financial Network (FFN).
"Saving for retirement doesn't sound very appealing to most twenty-somethings. It's hard for mutual funds to compete with the allure of international travel, new cars or buying a first home – not to mention the obligation to repay student loans and get out of debt," Gallegos says. "However, what does appeal to many young adults is saving for the freedom to make choices after their original working life draws to a close, whether that is in 10, 30 or 50 years."
Now is the time for young adults to set a different course than their baby boomer parents. One recent survey found that the average baby boomer aged 55-65 has saved about $136,000 for retirement, while most need to have saved more than $429,000 by this time.
"Starting early is the best way to ensure that you will have what you need later on, whatever you choose to do, Gallegos says. Freedom Financial Network suggested these six tips to build retirement savings starting right after graduation:
1. Save now to buy freedom later. Some sources estimate that today's graduates will not be able to retire until age 75. Developing a larger savings habit sooner can mean retiring sooner. For example, imagine Graduate A starts saving $100 a month at age 22, and saves that same amount every month until retirement at age 67, earning 6 percent return per year. After 45 years, Graduate A would have more than $277,000. By comparison, if Graduate B doesn't get around to saving regularly until age 42, he will have only 25 years to invest before retirement. To match Graduate A's savings, he would have to save $400 a month. Yet if Graduate A could increase his savings to $400 a month beginning at age 42 – after saving $100 a month from age 25-42 – he would have nearly $500,000 by retirement age. Experts recommend saving at least 10 to 15 percent of income each year to retire five to 10 years earlier than that estimated retirement age of 75.
2. Calculate needed retirement savings. "Understanding how much savings you will need to retire can be a real wake-up call," Gallegos notes. People can get a ballpark estimate of how much they should save from several online sources. These numbers can be eye-opening, but they are attainable for most people if they start early.
3. Pay off debt. Many recent graduates are repaying student loans, a car loan, credit cards or personal loans. Paying off these debts is very important to a person's overall financial strategy. "The sooner you repay a debt, the sooner you can devote that payment amount to saving for your future," Gallegos advises. Some young adults trim expenses by living with parents, living with roommates or taking on a second job while repaying student loans as quickly as possible.
4. Make saving automatic. Successful savers generally get into the habit of having retirement plan contributions automatically deducted from their paycheck or checking account. Those whose employer offers a retirement plan, and especially one that offers matching funds, should invest as much as possible in the plan, even while paying down debt. Neglecting to contribute to a 401(k) with matching contributions is effectively giving money away.
5. Monitor investments. Many workplace plans and mutual funds make investing easy. "Especially as your salary grows, make sure the mix of investments is right for your goals and stage in life," Gallegos says. "Younger investors usually can handle higher-risk investment, which often can be more lucrative. But as time goes by, check that the balance of high- and low-risk stocks and bonds is appropriate for your stage in life." Also, be sure to increase savings to match a growing paycheck. This allows investments to keep up with a maturing lifestyle.
6. Get help if debts are too high to repay. People who cannot save for retirement at all because they have greater debt than they can repay can seek help. Freedom Financial Network's debt relief services can help consumers evaluate options to get out of debt and look toward the future.
Freedom Financial Network (http://www.freedomfinancialnetwork.com)
Freedom Financial Network, LLC (FFN), provides comprehensive consumer credit advocacy services. Through the FFN family of companies – Freedom Debt Relief, ConsolidationPlus, FreedomPlus and Bills.com – FFN works as an independent advocate to provide comprehensive financial solutions, including debt consolidation, debt resolution and debt settlement services for consumers struggling with debt. The company, which has resolved more than $4 billion in debt and assisted more than 300,000 clients since 2002, is an accredited member of the American Fair Credit Council, and a platinum member of the International Association of Professional Debt Arbitrators.
Based in San Mateo, California, FFN also operates an office in Tempe, Arizona. The company, with 1,100 employees, was voted one of the best places to work in the San Francisco Bay area in 2008, 2009, 2012, 2013 and 2014, and in the Phoenix area in 2008, 2009, 2010, 2012, 2013, 2014 and 2015. FFN's founders are recipients of the Northern California Ernst & Young Entrepreneur of the Year Award.