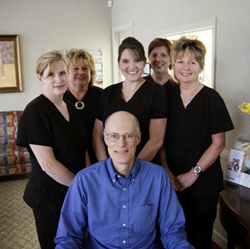 The loss of a single tooth sets off a chain reaction which lead to more serious problems, including TMJD.
Graham, NC (PRWEB) August 08, 2014
In a recent survey carried out by the American Academy of Cosmetic Dentistry and Kelton the largest portion of participants (45 percent) agreed that a smile is the most attractive feature, regardless of age.
The survey revealed that most people today would be willing to spend their money in safeguarding their teeth if they can afford it. 62 percent of those surveyed would spend their money maintaining the quality of their teeth.
A common reason for many individuals not replacing their teeth is because the missing teeth are at the back of the mouth. They wrongly assume that the lack of an immediate negative effect on their appearance means they are safe.
However, as Graham NC dentist Jerome Crayle explained in an interview held at his office, the loss of a single tooth sets off a chain reaction.
"Over time, the remaining teeth tend to shift and move toward the space left by the lost teeth. As they do, they tilt and twist around, causing the bite to change, which could ultimately lead to more serious problems, including TMJD," said Dr. Crayle.
TMJD refers to Temporomandibular joint disorders, a group of conditions associated with dysfunction and pain in the jaw joint and the muscles controlling jaw movement.
In severe cases, TMJD could lead to pain in other parts of the body.
"A bad bite may show up as biting of the cheek or the tongue as well as grinding between the upper and lower teeth and this could lead to muscle imbalances, headaches, neck and shoulder pains," he added.
The Graham dentist also advises patients with unexplained headaches, neck pain or shoulder pain to have it checked by a dentist to eliminate a bad bite as the root cause of the problem because it could be related to the function of the jaw.
"Some of the possible treatments for bad bites include bite adjustments as well the use of bite guards, which have been approved by the FDA for the treatment of headaches," said Dr. Crayle, Graham dentist.
He added that a lot of these problems could be averted by quickly replacing any missing teeth, regardless of their position in the mouth. This would allow a person to avoid a lot of expensive treatments later on.
"I advise the public to visit their dentist to get a thorough checkup. Do not use what you read here as a diagnosis for your dental condition." said the Doctor.
Dr. Crayle offers dentures, partials, bridges and dental implants as part of his dental services to the residents of Graham, Mebane, Saxapahaw, Snow Camp, Alamance, Haw River, Burlington and Swepsonville, NC.
The dentist in Graham NC is also offering dental cleaning, exam and x-rays at a discounted rate of $77 (regular price: $200) to encourage more patients to seek preventive dental care.
For more information, visit http://dentistgrahamnc.com/.