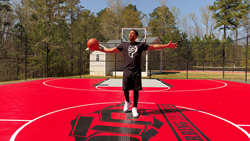 "After I did my research, I went with the best athletic surfacing on the market for my backyard courts. [SnapSports is] hands down the leader in this space. " - Chris 'Ludacris' Bridges
ATLANTA (PRWEB) April 28, 2019
SnapSports Athletic Surfaces earned another satisfied customer this week, this one a familiar face throughout the music and entertainment industries. Chris Bridges, professionally known as Ludacris, selected SnapSports for the total renovation of full sized basketball and tennis courts located in the backyard of his Georgia residence. Bridges did not take this project lightly, saying
"After I did my research, I went with the best athletic surfacing on the market for my backyard courts. [SnapSports is] hands down the leader in this space. "
SnapSports affiliate and authorized builder, Two One Courts of Georgia, installed over 10,000 square feet of SnapSports Outdoor Revolution, the newest addition to their industry leading outdoor court product line up. Both courts were done in an eye popping red and grey combo, with the full basketball court featuring a custom 'Disturbing Tha Peace' logo – a nod to the American record label founded by Bridges and now operating under Def Jam. Bridges was beyond happy with the renovation results,
"To be honest with you, I couldn't be more happy right now. Literally because they came, everything was professionally done, the customer service, in terms of how quiet they made it, they came out to my house and everything was professional…SnapSports is the elite in the game. "
Chris "Ludacris" Bridges is a three time Grammy award winning Rap artist and actor known for his work in 'The Fast and the Furious' film series. An avid baller, Bridges hosts his own yearly Celebrity basketball game as part of 'LudaDay Weekend' a fundraising event with all proceeds benefiting his charity, the Ludacris foundation. With his clear love of the game, when it came time to choose a surface for his personal court, Bridges was looking for high performance, durability, and of course swag. SnapSports delivered.
SnapSports is a Salt Lake City based manufacturer and distributor of indoor and outdoor court products. Made in the USA, SnapSports surfaces have been chosen for use by not only Ludacris, but by the NBA All-Star Jam, AAU Jam On It Academy, United States Futsal Federation, Dew NBA 3x, The Big South Volleyball tournament and more elite sports organizations worldwide. SnapSports is a technical partner of the FIBA equipment and venue center as well as an ITF Classified Court pace Fast 5 surface.