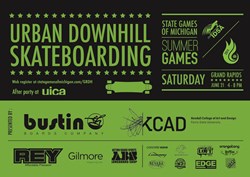 Grand Rapids, Michigan (PRWEB) February 16, 2014
Grand Rapids, Michigan is scheduled to host the State Games of Michigan Urban Downhill Skateboard Competition – June 21, 2014 presented by Kendall College of Art & Design, Bustin Boards Custom Longboards & Rey Trucks. Parent Sponsor Organization, Meijer State Games of Michigan inducted the Grand Rapids Urban Downhill Skateboard event as the 36th sport addition to the 2014 Summer State Games, an effort to diversify the Summer Games Sports line-up.
Downtown Grand Rapids issued downhill skateboard event organizers a permit to allow skateboarders to navigate one, half-mile of Grand Rapids urban terrain boasting 6% grade slope, right & left 90 degree off-camber turns and competitive bracket 4-person racing heats. The event is 4-8pm on June 21 during the Summer Solstice. The course starts on Lyon east of Lafayette, skathletes will turn left on Ransom & right on Fountain Street finishing before Division.
The urban downhill is hosted on internationally recognized Go Skateboarding Day, reinforcing a greater motion to legalize Skateboarding for commuters in Downtown Grand Rapids, Michigan in 2014. The Urban Downhill Skateboard event, socially-dubbed #GRDH, has attracted more than One-Hundred registered event participants to compete in the State of Michigan Summer Games Urban Downhill, plus an expected 2,500+ spectators.
Longboard-Skateboarding is recognized as fastest growing segment of the Action Sports Industry, worldwide since 2009. Urban Downhill organizer & Grand Rapids native Mike Dallas, Partner of New York City based Bustin Boards Longboard Company, is a local Graduate of Aquinas College and also spent two years at Calvin College. Throughout his studies Mike practiced the art of longboard skateboarding and focused on product development, materials sourcing, and social engagement. Now, Dallas focuses on production, sales and event promotion in Midwest.