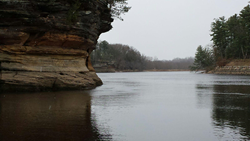 Wisconsin Dells, WI (PRWEB) May 12, 2016
Online auctioneer Micoley.com has announced the upcoming auction of Lot 100837, or 100.96 acres situated along Grand Cambrian Drive in Wisconsin Dells. The site was going to serve as the location for the Cambrian Resort and Condominium, and despite plans falling through the property remains an ideal option for condominiums among numerous other commercial possibilities.
This lot includes a 3.09-acre parcel located on the corner of Highway 16 and Vine Street, with another section featuring 1,855 square feet next to the Wisconsin River. Much of the latter area includes a sandy beach and the rock formations for which Wisconsin Dells is known. The last section of property is a 40.16-acre piece capable of hosting 48 condominium lots. Some of these lots have already been sold.
The 3.09-acre area is considered optimal for advertising the resort community, while the original development plan included a convention center, two water parks, numerous restaurants, and a spa. List price is $3,495,000 with an opening bid of $1,595,000. This property is to be featured during Micoley.com's Summer Auction Event on June 22, 2016.
Wisconsin Dells is considered the "waterpark capital of the world," thanks to the area's famous indoor waterparks. However, there's much more for residents and tourists to discover in this northern destination. Breweries and wineries, museums, golf, scenic tours, animal attractions such as a crane sanctuary and deer park, and live theater are merely some of the many ways people can fill their days in Wisconsin Dells.
The highly motivated sellers of this property have indicated that they plan to entertain early bids and offers. Buyers are most likely already researching this property, and coming to decisions about whether to make a purchase, so potential buyers are advised to act fast.
Interested parties should visit micoley.com to find more photos and details about the property, or visit in person and perform an inspection on site, which is highly recommended. (866) 371-3619 is Micoley.com's information line. Additionally, Micoley.com features a live chat service through which questions can be answered.
About Micoley.com:
Green Bay, Wisconsin-based Micoley.com is a real estate marketing firm specializing in project focused auctions and sales events throughout the United States. The Micoley.com approach to Real Estate marketing tailors each auction plan to the client's individual needs. The site is constantly being updated for the benefit of buyers, as large-scale auctions/sales events are held every month, and new properties are added daily.
"Today we serve the real estate community in both the banking and private sectors with customized, accelerated marketing programs," says W. Micoley, president & CEO of Micoley.com, LLC. "Programs can be tailored for financial institutions, commercial and corporate clients as well as the individual property owner to help face our current and unpredictable economic environment. As a result of our aggressive marketing plan, Micoley has successfully assisted many clients across the United States."