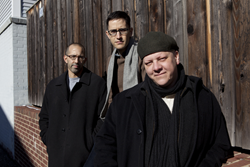 Live music or a dessert menu? Come have a taste and decide for yourself.
Washington, DC (PRWEB) May 27, 2014
Sweet Gig… with a special treat.
Live music or a dessert menu? Come have a taste and decide for yourself. Arlington, Virginia's The Grand Candy are set to welcome summer with DC scene roots rock powerhouse Jelly Roll Mortals and the fresh, new Jacqueline Pie Francis. While The Grand Candy's new disc NSFW features a harder edge, Candy's songs such as "She's Too Sweet," and "Pie," The Grand Candy will surely satisfy your cravings. With comparisons to Dire Straits, Morphine, Chris Whitley, Jeff Buckley, and Elvis Costello, The Grand Candy can please any musical palate.
In the spirit of eating dessert first, The Candy is offering a special treat for those attending the show! For music fans who've always had the idea to write a song, The Grand Candy is offering a chance, looking for fans to help finish "Being You," a song about learning to understand what it's like to walk in another person's shoes, a song about empathy. Those attending the show can submit lyrics, and if those lyrics are selected, individuals will be invited into the studio to record backing vocals with the band.
Thursday, June 12th, 2014
IOTA Club and Cafe
2832 Wilson Blvd
Arlington, VA 22201
703-522-8340
The Grand Candy - thegrandcandy.com
with
Jelly Roll Mortals - jellyrollmortals.com
Jacqueline Pie Francis - reverbnation.com/jacquelinepiefrancis
The Grand Candy frontman, Dan 'Pluto' Cohn, has the soul of a jazzer trapped in the body of a troubadour. Touring the East Coast behind his solo effort, Par Avion, Pluto's songs were roundly praised as 'Original' and 'Masterful.' The Washington Post's 'New Dylan' comparison went so far as to suggest that Pluto's classic songwriting hails from a different era. He is a fearless songwriter with a cunning ear for melody. Jon Babu is a brilliant, sensitive musician and a ferocious drummer. These two, together with their clever contributors, mix and match various genres according to their ever-changing moods.
For more information or to schedule an interview with The Grand Candy, please contact Melissa Zeigler at melissa(at)powderfingerpromo(dot)com.