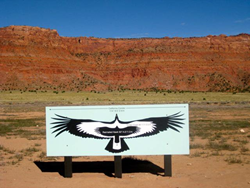 I was watching sunset from the South Rim, mesmerized, when three California Condors soared by at eye level. They seemed larger than life, so magnificent! To think we almost lost them...." A Grand Canyon Tour Participant, 2009
Denver, Colorado (PRWEB) May 31, 2014
Naturalist Journeys' partnership to present a guided tour of the Grand Canyon California Condor release area with the Nature and Raptor Center of Pueblo (NRCP) equips travelers with an unparalleled level of access to expertise. NRCP experts have an intimate understanding of both the California Condor and the terrain the raptor inhabits, providing visitors with an unequaled experience. The NRCP has spent three decades rehabilitating wildlife and advancing conservation education.
Naturalist Journeys' owner Peg Abbott explains that the guided experience is crucial in spotting California Condors, "The raptors need vast expanses of land and they move around large areas seasonally. Where you find them in September may be very different from where they were spotted in January." Naturalist Journeys' expert guides give birders an unmatched Condor experience, weaving the story of the bird's reintroduction into the wild with the natural and human history of the Grand Canyon and Four Corners area.
These endangered raptors are one of the most sought after species in the United States for birders and naturalists. As of May 2013, only about 230 California Condors live in the wild, making it one of the rarest birds in the world. The species became extinct in the wild in 1987, with 22 remaining condors being cared for at nature centers and zoos. In 1991, the first group of California Condors was released into the wild. Participants in the Canyon Adventure and California Condor Tour will observe the nineteenth annual condor release.
Diana Miller, Director of the Raptor Center, will be leading the tour alongside Naturalist Journeys' guide Woody Wheeler. Miller has 25 years of hands-on experience working with condors, eagles, vultures, and owls.
The Canyon Adventure and California Condor Tour highlights Naturalist Journeys' endeavor to remain a leader in ecotourism. By partnering with the Nature and Raptor Center of Pueblo, this tour empowers local conservation efforts and educates travelers on the complexities of species rehabilitation.
Find full details of Naturalist Journeys' American Southwest - Canyon Adventure and California Condor Tour at http://www.naturalistjourneys.com/jcalendar/jc_raptors14.htm.
More about the September 23-30, 2014 Grand Canyon California Condor birding and nature tour:
The tour begins and ends in Flagstaff, Arizona, with shuttle service available from Phoenix. This birding and nature tour is limited to 12 participants who will navigate the natural wonders of the American Southwest with expert guides. Travelers will raft down the Colorado River, hike winding slot canyons with Navajo guides, explore a remote ghost town, stay at South Rim of the Grand Canyon, and trek the venerated Zion National Park. Lodgings for 8 nights will be in Flagstaff and Page, Arizona, as well as Grand Canyon National Park and Springdale, Utah – gateway to Zion.
More about Naturalist Journeys:
Naturalist Journeys LLC, a top birding and nature tour company, offers specialty small group tours and travel worldwide, from the western U.S. to Alaska, Hawaii and Florida, Costa Rica, Panama, safaris in Africa and more. Naturalist Journey's guided nature and birding tours feature expert guides with decades of experience in birdwatching, travel photography and other forms of ecotourism. Naturalist Journeys also offers hiking and adventure travel tours in many national parks and wildlife reserves, including the Galapagos, Antarctica and the Amazon.