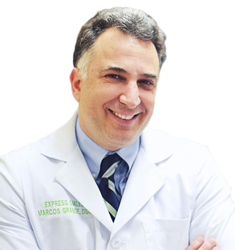 Dental implants have so many advantages over dentures that it is hard to enumerate all of them
Herndon, VA (PRWEB) April 21, 2015
Dr. Marcos Grande, a member of the American Academy of Implant Dentistry (AAID) and a premier dentist in Herndon, has produced an information video outlining the tremendous advantages that dental implants now have over traditional forms of tooth replacement such as crowns and dentures.
With the latest dental implant planning software and a CT scan of a patient's jaw, the video shows that Dr. Grande can now model the entire dental implant procedure without the need of an obtrusive dental tissue exam. Formerly, a dentist had to cut into the gums to examine a patient's jaw bone to determine appropriate implant sites. With this latest advance, this is no longer necessary and allows a dentist to perform up to four implant procedures in just 60 minutes, a modern miracle.
"Dental implants have so many advantages over dentures that it is hard to enumerate all of them," exclaims Dr. Grande. "That's why I produced this video - to show people those advantages and help them understand the procedure as well as answer common questions that patients have about it. It is a totally new universe to old-time dentures and crowns. Even using implants to secure a denture, a procedure called "denture over implants" is incredibly superior to just a regular denture."
Dentures secured with implants have the following advantages:
· The size of the denture is smaller.
· It is firmly secured within the mouth so there is no retention problem.
· It is stable.
· It is stronger.
· It does not impede taste.
· Because the implants are anchored in bone, bone mass is retained.
"One of the problems with regular dentures is that there is significant bone loss in the jaw overtime, because there are no longer any teeth being anchored," explains Dr. Grande. "Therefore no matter how well fitting at the beginning, dentures will become looser over time as the bone mass becomes less. Of course, there are also the other traditional problems of dentures – it is a bigger prosthetic that covers the palate and inhibits taste, they can flap and be extremely unstable. That's why this implant denture procedure is infinitely better and people can learn about it on the video."
The information video on the advantages of dental implants is available on Grande Dental Care's website and on YouTube.
For more information, about dental implants or other cosmetic dentistry procedures, contact Dr. Marcos Grande at:
Grande Dental Care
108 Elden Street, Suite 10
Herndon, VA 20170
(703) 471-7164
http://www.grandedentalcare.com
About Grande Dental Care and Dr. Marcos Grande
Dr. Grande has been in the dental field for over 20 years. He takes over 150 continuing education hours per year, well above the 15 hour required from the profession, and has been recognized as one of America's Best Dentists for 2014.
Dr. Grande's dentist office in Herndon is a fully equipped dental facility offering complete and expert dental services in one office. It specializes in dental implants, restorative dentistry, cosmetic dentistry, family dentistry, 6 month braces and treatment for sleep breathing disorders such as snoring and sleep apnea. Grande Dental Care services patients from Herndon, Reston, Sterling, Ashburn, Centerville, Chantilly, Fairfax, Oakton, Vienna, and Leesburg in Loudon and Fairfax counties.