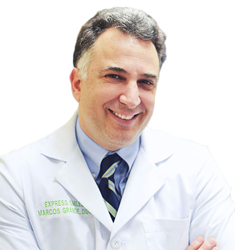 I have heard nothing but good things from my patients who are taking advantage of the program.
Herndon, VA (PRWEB) January 30, 2015
Dr. Marcos Grande of Grande Dental Care has started an inhouse program designed to help individuals and families afford the dental care they need without high-premium dental insurance. A family of three, under the program, can have basic preventative dental care for less than $100 a month, much less than the cost of a cup of coffee per day per person.
"I decided that our office needed to become more pro-active in helping individuals and families afford dental care,"says Dr. Grande. "We looked at this patient loyalty model and thought it provided an excellent solution to this problem. Adults and children can get basic preventative dental care for less than $1.25 a day each. That's pretty good."
Under the program, Grande Dental Care adult patients pay $32 a month. This covers professional dental cleanings (2 per year), doctor exams (1-2 per year), needed x-rays as determined by the dentist and one emergency exam per year, if needed. Should someone have periodontal disease, $54 a month provides for up to two additional cleanings per year.
For a child, $29 a month pays for the same services as an adult but also includes fluoride treatment.
If a patient needs other dental services, including cosmetic procedures, a 15% discount applies. There is a $50 per person one-time activation fee.
Importantly, the program has

no deductibles,
no yearly maximum benefits, or
no exclusions for cosmetic or elective care.
"I have heard nothing but good things from my patients who are taking advantage of the program," exudes Dr. Grande. "They know that proper dental care is needed for healthy living, and they are now feeling better because they are getting the dental services they need."
For more information, contact Dr. Grande at (703) 471-7164.
About Grande Dental Care and Dr. Marcos Grande
Dr. Grande has been in the dental field for over 20 years. He takes over 150 continuing education hours per year, well above the 15 hour required from the profession, and has been recognized as one of America's Best Dentists for 2014.
Dr. Grande's dentist office in Herndon is a fully equipped dental facility offering complete and expert dental services in one office, including dental implants and treatment for sleep breathing disorders such as snoring and sleep apnea.