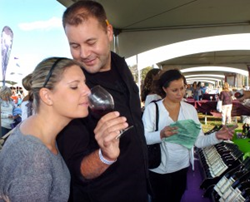 [edible Jersey is] delighted to team up with the Association to offer a day of educational seminars that explore the wonderful relationship between wine, food and other aspects of the epicurean experience.
Morristown, NJ (PRWEB) September 25, 2014
The Garden State Wine Growers Association will hold the annual Grand Harvest Wine Festival on October 4th and 5th at the historic Fosterfields Living Historical Farm in Morristown, NJ. The festival will be open from 12-5pm each day, featuring 19 NJ wineries, food trucks, arts and crafts and live music each day. This will be the fourth of five annual statewide wine festivals produced by the GSWGA this fall. The events give both in and out of state wine enthusiasts the opportunity to enjoy the rising quality of New Jersey wine, as well as the rapidly increasing number of local wineries.
As a special new feature, the Association chose Grand Harvest to be the venue that would feature a slate of food & wine talks and presentations from speakers affiliated with edible Jersey magazine. Talk topics over the weekend will include wine and cheese pairing, wine-derived cocktails, and a history of spirits and winemaking in New Jersey. "We have long applauded the GSWGA's annual array of festivals, which provide an outstanding venue to introduce consumers to the quality and range of brands statewide," said edible publisher Nancy Painter. "We are delighted to team up with the Association to offer a day of educational seminars that explore the wonderful relationship between wine, food and other aspects of the epicurean experience."
Fosterfields Living Historical Farm is preserved as it was at the turn of the 19th century, and still operates as such. The venue offers a dramatic backdrop in rustic Morris County during the peak of fall foliage. It will also be the end of the wine grape harvest season. As things gradually slow at the winery properties around the state, more wineries will come to the county park to pour samples and show off their latest vintages than at any other festival this year. Governor's Cup winners Sharrott Winery, Heritage Vineyards, and Tomasello Winery will all be pouring their trophy winning wines. The park allows consumption on the property, so attendees can purchase a bottle to enjoy on the lawn in front of the band.
Bands will play from start to finish each day. The Dirty Blondes will play classic rock lead with driving female vocals and guitar on Saturday, while the B Boyz will entertain Sunday with R&B and soul. The B Boyz are a seven piece band with a horn section, so be prepared to dance! Foodies will feel at home with food trucks offering delectable bites including flatbread wood-fired pizzas, gourmet tacos, and empanadas from the Empanada Guy. Artisan food and craft vendors will have their wares available, guests can snack on gourmet pretzels and chocolates, or take home specialty sauces, seasonings and spices. The event is family friendly, with a crafts activity tent for kids to enjoy as well.
The festival is presented in part by Audi Mendham and the brand new Audi Bridgewater, who will have an armada of luxury vehicles on the festival grounds to show off. "We are excited to help bring this wonderful celebration to the community," said Christopher J. Adams, General Manager of the Audi Stores. "Like a fine wine, the luxury of Audi has only improved with age. With a new showroom in Bridgewater, we have two first-rate locations to care for our growing customer base."
Tickets are $25 for adults; while those under 21 are free. Tickets can be purchased online in advance at a $5 discount, which is available through Saturday the 4th. Designated drivers receive entry for $5.00 at the gate. Admission includes a souvenir wine glass that can be used to sample the wines. Ticket information, a festival guide, and the full list of winery participants can be found by visiting http://www.newjerseywines.com/event/grand-harvest-wine-festival/2014-10-04/.
The GSWGA is a coalition of nearly 50 wineries and vineyards across New Jersey, dedicated to raising the quality and awareness of the New Jersey wine industry. For more information, please contact Executive Director John Cifelli at 908-866-6529 or John(at)newjerseywines(dot)com.