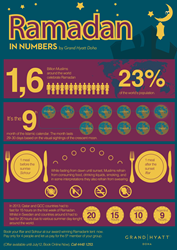 Ramadan in numbers by Grand Hyatt Doha
Dubai (PRWEB) July 02, 2014
Ramadan is back at Grand Hyatt Doha after winning last year's Qatar Choice Award for best Ramadan Tent in 2013.
The full atrium is converted into an Arabian palace, bringing together all the chefs de cuisine from their acclaimed restaurants, joining forces for an international buffet with flavors catering to all tastes. Guests can chose to book online and avail a special 4+1 offer till 12th of July whereby upon booking an Iftaar or Sohour for 5 people, they need to pay only for 4.
Book online at the Grand Hyatt Doha website.
For more information or bookings, please call 4448-1253.
Understand the magnitude of Ramadan in this beautiful info-graphic, Ramadan in Numbers.