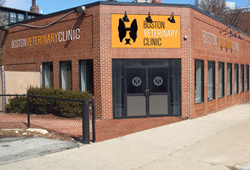 The best vet experience your canine child will ever have. If you want the very best for your animal companions, you need Dr. B in your pets life. – Current Customer
Boston, MA (PRWEB) June 19, 2014
Boston Veterinary Clinic is opening their doors for the first time making them the new kid on the block, celebrating its grand opening Thursday, June 26, 2014 at 363 Tremont Street in Bay Village from 4:00pm to 8:00pm.
Guests who visit the clinic can expect a warm welcome at the door and a swag goodie bag for 2 and 4 legged friends. Treats are provided by Polka Dog, a local bakery in Boston. Visitors will also receive $25.00 off their first exam and a tour of the facility.
In November of 2012, Dr. Brian Bourquin left his job as a veterinarian at a corporate-owned clinic to start a different type of veterinary business, one that provided a more personal touch for his clients and exceptional, personalized care for his patients. Instead of a traditional building or a mobile clinic, Dr. Bourquin started offering in-home calls to pet owners who wanted comprehensive wellness and sick care. A rare find in the Boston area, his clients loved the personal touch and world-class customer service.
After successfully running the concierge at home care service for cats and dogs, Dr. Bourquin and his team decided to take the leap to establish a brick and mortar.
The state-of-the-art veterinary clinic in Boston's historic Bay Village, will provide on-site surgical and dental capabilities and digital radiography. The clinic will have a total of four doctors – one on surgery, two for appointments and one for in-home care. "They will have the best of both worlds: a well-designed facility with the latest diagnostic technology and the highest standard of custom-tailored pet care delivered to each individual client's needs," says Dr. Bourquin with enthusiasm.
The catered event is from 4:00pm to 8:00pm at 363 Tremont Street Boston, MA and will have vendors on site. Parking is free for visitors. Guests planning to attend the grand opening are requested to RSVP by sending an email to info@bostonveterinary.com. For questions about the event or services, send an email or call 857-362-8672.
About Boston Veterinary Clinic
Boston Veterinary Clinic is located at 363 Tremont Street in Boston's historic Bay Village. The clinic will offer comprehensive medical, dental, diagnostic and surgical services to complement the in-home care service. Seven free parking spots are available for patrons visiting the clinic. To make an appointment or to get more information, visit the website at bostonveterinary.com or call (857) 362-8672.