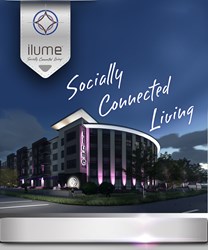 We look forward to hosting Sam Harris for an entertaining evening and cannot wait to share his talents.
Dallas, Texas (PRWEB) January 28, 2014
ilume Village™ is proud to announce the opening of ilume Park™, a boutique, hotel-inspired community in the Oak Lawn/Cedar Springs neighborhood of Dallas, Texas. The grand opening celebration, starting at 7:00 pm on February 4, 2014, will feature stage, screen and television star Sam Harris launching his first book, "Ham: Slices Of A Life," a collection of short stories and essays about his journey through life.
Proceeds from the grand opening event at ilume Park™ will benefit the Red Party Foundation, Inc., a non-profit organization dedicated to Legacy Counseling, Inc., the largest provider of mental health services to those living with HIV/AIDS. Legacy Counseling, Inc., helps advance HIV/AIDS prevention, treatment and counseling services. For more information about Red Party, please visit: redpartydallas.org/about/.
"We are thrilled at the opportunity to partner with ilume Village™ for the opening of ilume Park™," said Red Party Foundation Board President Jeff McKnight. "Along with ilume Village™, we look forward to hosting Sam Harris for an entertaining evening and cannot wait to share his talents."
Sam Harris is a multi-platinum recording artist and has toured the globe in concert, including sell-out performances at New York's Carnegie Hall, Los Angeles' Universal Amphitheatre, London's West End and The Boston Pops. He also performed with Liza Minnelli in the duets show, "Schmooli & Minnooli." On television, Sam first came to national attention as the premiere winner on "Star Search." He was a series regular on the CBS comedy, "The Class," recurred on "Rules of Engagement," and has been interviewed by top hosts such as Jay Leno and Oprah Winfrey.
Harris will be reading excerpts from his newly released book and performing musical numbers live at 7:30 PM at Ilume Park™.
"ilume Park™ is the expansion phase of ilume Village™, where members experience double amenities in a socially connected, culturally sophisticated and centrally located environment," said Luke Crosland, owner of The Crosland Group and developer of ilume Park™. "We take pride in giving back to our neighborhood and community with passion and consistency."
Tickets can be purchased at samharrisevent.eventbrite.com. For more information, contact Briana Brag at (561)504-3600.
About ilume Park™
ilume Park™ is a part of the Dallas, Texas luxury apartment community tailored to a culturally sophisticated lifestyle. As the expansion property of the acclaimed ilume Village® at Cedar Springs, members benefit from an array of expanded amenities. A lavish grand lounge and piano bar with a featured cocktail hour envelops the members in sophistication and class. For the care-free, the brand-new Frill Zone features a game lounge, sports bar and a state-of-the-art screening room. Lush courtyards provide a haven for unwinding at the end of the day, while the resort-style heated pool and spa offers an oasis for recreation. ilume Park™ features everything guests need to stay in shape and look great: from a 4,000-square-foot spa and fitness studio to personal training and complimentary weekly fitness classes with massage and tanning rooms. Even man's best friend will feel at home, as these dog-friendly Dallas apartments feature a dog walking trail with agility equipment, a dog splash lagoon, dog play lawns, and an on-site PawSpa™ for pet care and grooming.
For more information about ilume Park™, please visit ilume Park™ on Facebook or online at http://www.ilume.com/ilume-park/.
###