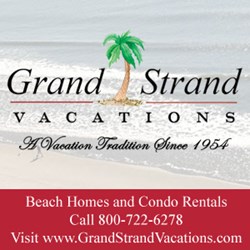 It is a passion and a dream come true for me to be able to continue providing families with quality beach vacations.
North Myrtle Beach, SC (PRWEB) November 14, 2013
Grand Strand Vacations, a vacation rentals and real estate property management company, has announced today that Angela Seddinger has purchased and taken over management of the company.
Grand Strand Vacations has been established for 60 years and was formerly owned by Angela's mother, Nancy Seddinger. The Seddinger family has owned the business since 1973 and has been (and still is) one of the premier management companies along the Grand Strand.
Angela's passion for Vacation Rentals started at nine years old when she took her first reservation. Angela Seddinger's has experience working every aspect of the company which includes but is not limited to reservations, housekeeping, maintenance, condominium property management (HOA), accounting, real estate sales and general management.
As the owner, Angela will continue the traditions, and add to the legacy provided by her parents many years of dedication. With Angela's knowledge of the industry, professional contacts and expertise in property management, Grand Strand Vacations is well situated and will continue to be a significant part of the North Myrtle Beach's real estate community.
"Grand Strand Vacations has been as much a part of my life as my own family. It is a passion and a dream come true for me to be able to continue providing families with quality beach vacations, homeowners with significant income from their investments, and employees with many opportunities. I am looking forward to a successful future full of bright new ideas with a fresh outlook." - Angela Seddinger
About Grand Strand Vacations
Grand Strand Vacations is one of the oldest Vacation Property Management companies in North Myrtle Beach, SC serving vacationers since 1954. Grand Strand Vacations manages and maintains many of the oceanfront homes and condominiums in North Myrtle Beach, as well as channel houses, cottages and off the ocean properties. Homeowners looking to maximize their earnings from their real estate investments have been putting their trust in Grand Strand Vacations for decades. For more information about Grand Strand Vacations, please visit http://www.grandstrandvacations.com
###
For media inquiries, please contact:
Angela Seddinger, President/Owner
Grand Strand Vacations
843-249-3433
GrandStrandVacations.com
angela(at)grandstrandvacations(dot)com