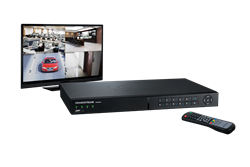 This recording appliance is a dynamic and valuable part of any surveillance system.
Milwaukee, WI (PRWEB) November 24, 2014
Businesses are calling for better security solutions, and IP Phone Warehouse is answering by introducing the brand new Grandstream GVR3550 network video recorder. Record, stream and monitor up to 24 ONVIF-compliant IP cameras from this affordable, state-of-the-art network appliance.
The Grandstream GVR3550 network video recorder offers several different recording modes, viewing options and more:

Record up to 24 channels at once
Receive full HD 1080p video
H.264 and G.711 codec support
Expand hard drive to 16 TB
Compliant with ONVIF cameras
Scale and expand the recorder to meet any security requirements. Record or stream up to 24 720p HD channels, or up to 12 1080p HD channels. Connect a monitor to the appliance's HDMI or VGA port and view live feeds from up to 16 video cameras, simultaneously.
Compatible IP cameras and surveillance equipment:
Grandstream GXV36xx IP cameras
Grandstream GXV35xx encoders and decoders
ONVIF-compliant cameras from third party manufacturers
Recording modes include continuous, by schedule, event triggered and manual. The Grandstream GVR3550 can record all day long, with failsafe settings that restart the recording process after a power failure and automatically recycle old or unsaved video files.
Connect alarms to the GVR3550 so it can start recording and issue notifications when an event is detected. The network video recorder can be managed off-site through a web browser or on-site with the included remote control. This recording appliance is a dynamic and valuable part of any surveillance system.
See the Grandstream GVR3550 network video recorder's full specifications here: http://www.ipphone-warehouse.com/Grandstream-GVR3550-p/gvr3550.htm.
IP Phone Warehouse is an authorized reseller of Grandstream IP surveillance products, including cameras, encoders and decoders. Visit our website, or contact us by email: service(at)ipphone-warehouse(dot)com or phone: (888) 201-9056 to learn more about how IP-based technology is securing businesses all over the world.
About IP Phone Warehouse
IP Phone Warehouse is the leading specialty reseller of VoIP phones, video conferencing equipment, IP surveillance cameras and network devices. We're stocked with everything that small businesses and enterprises need to deploy reliable VoIP and video solutions. A dedicated customer service team and a wide range of available online resources support every product at IP Phone Warehouse.