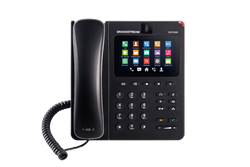 Milwaukee, WI (PRWEB) May 29, 2014
IP Phone Warehouse is thrilled to introduce the newest member of the Grandstream VoIP phone family, the GXV3240. The Grandstream GXV3240 combines an Android smartphone and a desktop video conferencing system into one brilliantly easy-to-use device.
Grandstream GXV3240 overview:

Six line appearances
Adjustable camera
Wideband speakerphone
4.3-inch touchscreen
Dual switch port with PoE
WiFi and Bluetooth
With an embedded Android 4.2 operating system, the Grandstream GXV3240 phone is compatible with a variety of downloadable apps from the Google Play store. The touchscreen also lets users navigate the phone's menus as if it were an Android smartphone, leveraging this desktop phone's powerful features with intelligent functionality.
The phone's built-in camera can take still pictures and record video. Dial another endpoint with the Grandstream GXV3240 and conduct a video conference from any desk, with picture-in-picture capabilities.
Also browse the web from the Grandstream GXV3240 phone. Connect this VoIP phone to an IP network through the dual gigabit Ethernet switch ports or the onboard WiFi receiver. Interact with instant messaging apps and social media, view news and weather, or stream media all through this versatile IP phone.
The WiFi receiver lets the phone connect wirelessly to the network, while the embedded Bluetooth lets it connect wirelessly to many different kinds of accessories. Set up a Bluetooth headset with the Grandstream GXV3240 or transfer data from a Bluetooth-enabled mobile device.
Standards-based operation:

SIP interoperability
H.264 video codec
G.711, G.726 and G.729 audio codecs
Expand the GXV3240 phone with the Grandstream GXP2200EXT extension module. The modules give the phone more busy lamp fields, speed dial buttons and more. This phone is perfect for many different professionals, from casual users and multimedia buffs, to power users and busy executives.
See the Grandstream GXV3240 multimedia IP phone right now at http://www.ipphone-warehouse.com/Grandstream-GXV3240-p/gxv3240.htm.
Top five applications for the GXV3240:

VoIP telephony and SIP trunking
Desktop video conferencing
Multimedia streaming
Google Play store apps
Messaging or as an attendant console
The applications for the Grandstream GXV3240 are nearly limitless. Learn what this VoIP phone can do for a small business, enterprise or other organization by contacting IP Phone Warehouse at (888) 201-9056, or service(at)ipphone-warehouse(dot)com.
About IP Phone Warehouse
IP Phone Warehouse is the leading specialty reseller of VoIP phones, video conferencing equipment and network devices. We're stocked with everything that small businesses and enterprises need to deploy reliable VoIP and video solutions. A dedicated customer service team and a wide range of available online resources support every product at IP Phone Warehouse.