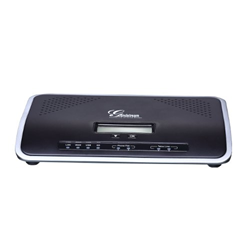 "Attending the UCM6100 webinar or workshop in Boston will give you a a close look at the devices and allow you to ask questions and get answers for your Grandstream UC solution." - Tom Costelloe, VoIP Supply Marketing Manager
Buffalo, NY (PRWEB) May 09, 2014
VoIP Supply, North America's leading VoIP solutions provider, has teamed up with Grandstream, a top manufacturer of IP voice and video devices, to provide the Grandstream Learning Series for customers to get a first-hand look at the Grandstream UCM6100 IP PBX Series for Unified Communictions (UC).
There are two ways for interested users to learn about the UCM 6100; a live webinar and an in-person training session.
VoIP Supply is hosting the Grandstream UCM6100 Series Webinar:

When: May 27, 2014 at 3:00 PM EST
Where: Online
What: This webinar will give an overview of the range of IP PBX appliances in the Grandstream UCM6100 Series and show how voice, video, data, and mobility solutions can be combined into an all-in-one UC platform.
VoIP Supply is also presenting the Grandstream UCM6100 Training Event and Workshop:
When: June 6, 2014 from 9:30 AM to 5:30 PM EST
Where: Boston, MA at Grandstream Corporate Headquarters
What: The workshop provides hands-on training for registered attendees to learn how to install, setup, manage, and troubleshoot the Grandstream UCM6100 IP PBX Series Appliances running on the Asterisk operating system.
Workship attendees are also qualified for a reduced price on the Grandstream UCM6102 IP PBX and the Grandstream GXP1405 2-Line VoIP Phone.
"The Grandstream Learning Series now offers two great ways for people to learn about the UCM6100 IP PBX Series," said Tom Costelloe, VoIP Supply Marketing Manager. "Attending the UCM6100 webinar or workshop in Boston will give you a a close look at the devices and allow you to ask questions and get answers for your Grandstream UC solution."
Call 800-398-8647 to personally speak with a VoIP Engineer about Grandstream or to register for the upcoming Grandstream Learning Series webinars and training sessions, visit http://www.voipsupply.com/grandstream-learning-series.
About VoIP Supply
We are a place of uncovering, cultivating and developing leaders. A world class place to work with big goals, a clear vision, defined purpose and a dedicated team of passionate business professionals. We love what we do and do it better than any of our competition.
Since 2002, VoIP Supply has been the leading supplier of VoIP equipment and complete VoIP solutions in North America. We are known in the industry as responsive and knowledgeable VoIP product experts.
With everything you need for VoIP, VoIP Supply has grown rapidly throughout the years. VoIP Supply is a three-time Inc. 500/5000 honoree, listed by Business First as one of WNY's Most Admired Companies, as well as one of Western New York's Best Places to Work for many consecutive years, including 2012. VoIP Supply is also the first Certified B Corporation in Western New York.