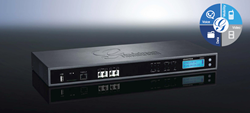 "The UCM6510 PBX follows in the footsteps of Grandstream's award-winning Unified Communication solutions," said Tom Costelloe, VoIP Supply Online Marketing Manager
Buffalo, NY (PRWEB) October 23, 2014
VoIP Supply is announcing today the availability of the Grandstream UCM6510 IP PBX for small business to enterprise-grade Unified Communications (UC).
The UCM6510 provides businesses an easy to manage open source PBX solution right out of the box with no extra licensing fees, no recurring costs, and a host of features.
This is Grandstream's second PBX appliance in the UCM series and just like the first one, the UCM6100, it offers zero-configuration of SIP endpoints so users can quickly install or expand the system.
Grandstream has been manufacturing innovative IP voice and video products that are feature rich and cost effective since 2002.
The new Grandstream UCM6510 IP PBX appliance is the latest such product designed for high call volume users such as enterprises, call centers, education, hospitality, and even small and medium sized businesses.
The UCM6510 is an all-encompassing PBX that combines voice, video, data, fax, security surveillance, and mobile applications that also provides:

Powerful Processor: 1GHz quad-core Cortex A9 with lots of memory (1GB, DDR3 RAM, 32GB flash)
Connectivity: T1/E1/J1 interface, 2 FXO ports, 2 FXS ports with lifeline capability in the event of power failure, dual Gigabit PoE, USB, SD Card.
Mobility: Supports direct extension calling for remote, mobile, or travelling workers using softphone apps or cordless DECT phones.
Call Quality: Advanced QoS support, carrier-grade line echo cancellation (LEC), smart automated impedance matching, dynamic jitter buffer.
Security: Security protection with SRTP, TLS, and HTTPS. Also includes software defense against hacker attacks with Fail2ban, Whitelist, Blacklist, and other alerts.
Video Calling and Surveillance: Use a VoIP video phone, smartphone, PC, or tablet for video calls plus integration with IP surveillance cameras and door phones with two-way audio.
Call Capacity: Up to 2000 registered SIP endpoints, 200 concurrent calls, 8 conference bridges with up to 64 simultaneous attendees, up to unlimited SIP trunk accounts.
Easy of Use: Call routing, call recording, flexible dial plan, automatic detection and provisioning for any IP endpoint, centralized control panel for endpoints.
The release of Grandstream's latest IP PBX for UC comes on the heels of their two recent Unified Communication awards: the 2014 Golden Bridge Award for UC innovation and the 2014 Unified Communications Product of the Year Award from TMC for the Grandstream UCM6100 Series IP PBX.
"The UCM6510 PBX follows in the footsteps of Grandstream's award-winning Unified Communication solutions," said Tom Costelloe, VoIP Supply Online Marketing Manager. "For any SMB that needs a simple, affordable solution for all their voice, video, and mobile worker communication needs, the UCM6510 has it all."
About VoIP Supply
We solve problems and create solutions with VoIP. VoIP Supply is a world class place to work with big goals,a clear vision, defined purpose and a dedicated team of passionate business professionals. We love what we do and do it better than any of our competition.
Since 2002, VoIP Supply has been the leading supplier of VoIP equipment and complete VoIP solutions in North America. We are known in the industry as responsive and knowledgeable VoIP product experts.
With everything you need for VoIP, VoIP Supply has grown rapidly throughout the years. VoIP Supply is a three-time Inc. 500/5000 honoree, listed by Business First as one of WNY's Most Admired Companies, as well as one of Western New York's Best Places to Work for many consecutive years, including 2013. VoIP Supply is also the first Certified B Corporation in Western New York.