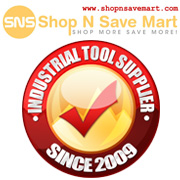 Industrial Diamond Tools Supplier for Granite Concrete Marble Fabrication and Restoration Shops! Zero Cost Shipping Within USA, a Solution Provider to Procure Hassle Free Diamond Tools Supply Within a Day!
Santa Clara CA (PRWEB) September 08, 2015
Shop N Save Mart has hit the headlines once again by making one more crucial improvement of their services. They are one of the trusted granite tools supplier rated high for their wide range of products and a high service standard. Shop N Save Mart has just launched the 'Orders over Phone' service to facilitate smooth placement of orders. Company sources have informed that this new telephonic order placement facility will be particularly helpful for customers that are offline or are more comfortable placing orders over the phone. These customers can now call the Shop N Save Mart customer support to effortlessly place their order.
Shop N Save Mart has been in an enhancement mode since the beginning of 2015. They started the year by launching a mobile-friendly website. This website's top notch e-commerce features, simple workflow, and responsive web design has already made shopping at Shop N Save Mart easy for the online and mobile buyer. Shop N Save Mart also gained the attention of the market later by introducing no-cost shipping for their customers. It is relevant to note here zero-cost shipping is available on every single order regardless of the purchase amount throughout the United States including the non-contiguous states Hawaii and Alaska. Zero-cost shipping is offered for most of the product lines including concrete polishing pads, hand pads, profile wheels, granite polishing kit and more.
At the time of the company's inception in 2009, Shop N Save Mart was primarily an industrial diamond tool supplier. Over the years, they added convenient services for easy order placement, faster and low-cost shipping. They have now built an identity in the market as the end-to-end solution provider for concrete stone polishing, cutting, grinding, restoration, and diamond tools procurement. The items offered by Shop N Save Mart diamond tools for stone concrete fabrication and restoration comprise Wet and Dry Diamond Polishing Pads including 4" diamond polishing pads, Granite Concrete Stone Fabrication Restoration Tools, Diamond Floor Polishing Pads, Diamond Cup Grinding Wheels, Concrete Granite Polishing Pads, Diamond Hand Pads, Diamond Saw Tuck-point Blades, and Diamond Drum Wheels.
Highlighting the importance of the company's new 'Orders over Phone' service, the President of Shop N Save Mart Sumit K. Suman stated, "This service is released keeping the professional customers in mind. This will make an order placement easier for offline professional diamond tool consumer by pick up a phone during peak hours. It is a convenient feature for the stone fabricators, professionals, artisans, and the DIY."
Official sources have also informed that the company's efforts to improve their service will continue in the future.
About Shop N Save Mart:
Shop N Save Mart is a renowned industrial stone fabrication diamond tools supply company and the authorized retailer for Stadea tools. A custom B2B service provider, the organization provides a holistic solution for stone polishing, cutting, grinding, restoration, and diamond tools procurement to stone, granite and concrete manufacturers, fabricators, etc. Their professional quality tools offering, competitive pricing, exemplary focus on customer service, B2B friendly online portal, no-cost shipping, zero-cost overnight shipping, fast shipping, delayed time zone shipping location, cost-effective deals, discounts, and other bargains makes them one of the best partners for all diamond tool related needs and supply.