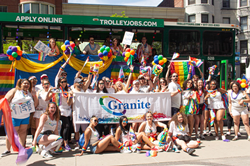 For anyone in the LGBTQIA+ community, Pride reminds us of how far we've come and how much further we still have to go.
BOSTON and QUINCY, Mass. (PRWEB) June 17, 2019
Teammates of Granite Telecommunications, a $1.4 billion provider of communications services to multilocation businesses and government agencies, came out in force to march in the Boston Pride Parade on June 8. Granite RockOUT, an employee resource group for diversity and inclusion, coordinated Granite's participation in the event, recruiting more than 60 Granite teammates to join the parade, which seeks to spread awareness and gain support for a world without discrimination based on sexual orientation or gender identification.
Boston officials estimated a record-breaking 750,000 people took part in the parade, many of whom marched through the streets of the Back Bay, The South End, Bay Village, Beacon Hill and finally Government Center to finish at the Boston Pride Festival on City Hall Plaza.
"All of us Granite were proud to represent our company and our LGBTQIA+ community at Boston Pride," said Granite RockOUT Organizer Corina Demeo, senior national relationship development manager at Granite. "For anyone in the LGBTQIA+ community, Pride reminds us of how far we've come and how much further we still have to go. It's a time to celebrate who we are without fear of judgment or being forced into closets. It's also a time for our straight and cisgender allies to show their support of our community and learn how they can further cultivate visibility for us and advocate for change."
The theme of this year's parade was "Looking Back, Loving Forward," a tribute to the 50th anniversary of the Stonewall uprising and a message of hope for a brighter future. The Stonewall uprising was a series of spontaneous demonstrations by members of the LGBT community against a police raid that began in the early morning hours of June 28, 1969. The three-day uprising is widely considered to be the most important event leading to the gay liberation movement and the modern fight for LGBT rights in the U.S.
At Granite, diversity and inclusion are business priorities and integral to the company's culture. Granite RockOUT was formed to support Granite's LGBTQIA+ community and their allies. Its mission is to create a culture of positivity and acceptance within the Granite workplace so that all teammates feel welcome and enjoy their work environment.
In addition, Forbes recently recognized Granite as one of the country's 2019 Best Employers for Diversity. The prestigious list ranks 500 employers that have created measurable initiatives to ensure a diverse workforce and senior leadership team.
About Granite Telecommunications
Granite delivers one-stop communications solutions to multilocation businesses and government agencies throughout the United States and Canada. The $1.4 billion company serves more than two-thirds of the Fortune 100 companies in the United States, and has 1.75 million voice and data lines under management. Granite launched in 2002 and grew quickly by helping businesses to simplify sourcing and management of local and long-distance phone services with one point of contact and one invoice for all their office locations nationwide. Today, Granite is the leader in aggregating Plain Old Telephone Services (POTS), and has extended its unique value proposition – "one company, one contact, one bill" – to include a range of advance business communications services, including Internet access, SD-WAN, wireless WAN, hosted PBX, SIP trunking, mobile voice and data, mobile device management, managed security, network integration and much more. Granite employs more than 2,100 people at its headquarters in Quincy, Mass., and nine regional offices nationwide. For more information, visit http://www.granitenet.com.