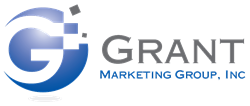 San Diego, CA (PRWEB) December 31, 2014
Grant Marketing Group, Inc., a website development and Internet marketing firm, recently launched their new website, marketing a substantial improvement in the manner their professional services and unique business values are communicated to both existing clients and potential customers. Based out of Southern California, Grant Marketing Group, Inc. has been helping businesses improve their online presence with custom marketing and branding campaigns with the goal to improve lead generation and increased revenue opportunities.
Under the leadership CEO and seasoned Internet marketing veteran, Jeremy G. Fusselman, Grant Marketing Group, Inc. offers a boutique approach by limiting the number of clients they serve to ensure proactive service and more intimate attention to each client's campaigns. The firm prides itself in offering dedicated client management and support to ensure each client's marketing goals and objectives are met, while offering both integrity and transparency with each campaign, two business values lacking with most SEO and online marketing firms.
The redesigned website offers a more contemporary interactive design and an easier navigation to potential clients regarding the wide scope of services offered by Grant Marketing Group, Inc. The firm offers corporate branding, logo design, and website development services for enterprise websites, lead generation sites, and eCommerce websites. The new website's portfolio section clearly displays the wide range of website applications and industries served on behalf of the firm's clients.
Grant Marketing Group, Inc. also offers a wide variety of Internet marketing and SEO services which include customized campaigns tailored to each client's marketing and sales goals, as well as the client's current business model and competitive environment. Lastly, the firm offers both proactive and reactive online reputation management and brand management services, which can enhance or repair a company's slandered name, product, or brand within the search engine listings.
The company keeps abreast with the latest search engine, online marketing, content and social media trends to offer the best value, knowledge, and most effective marketing services to every client.
Grant Marketing Group, Inc. is proud to offer a full spectrum of online marketing solutions, dedicated client services, unwavering integrity, and effective SEO solutions. From concept to development to marketing, Grant Marketing Group, Inc. is poised to help every business grow and succeed. Understand how Grant Marketing Group's experience and refined strategies facilitates profitability and increased exposure for your business. Contact Grant Marketing Group, Inc. today at (888) 235-3122 or visit their website at http://www.grantmarketinggroup.com.
###