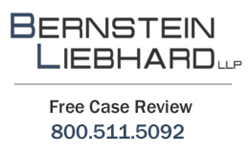 Our Firm is representing numerous clients in GranuFlo and NaturaLyte lawsuits that are also pending in the federal multidistrict litigation.
New York, New York (PRWEB) February 11, 2015
The U.S. Judicial Panel on Multidistrict Litigation has transferred seven GranuFlo lawsuits (http://www.granuflolawsuit2014.com/) alleging cardiovascular injuries related to the 2012 GranuFlo and NaturaLyte dialysis drug recall to the federal multidistrict litigation now underway in U.S. District Court, District of Massachusetts, Bernstein Liebhard LLP reports. According to a February 5th Order, plaintiffs in the claims, all of which were originally filed in the U.S. District Court, Western District of Oklahoma, had asked the Panel to vacate a conditional transfer of the cases to Massachusetts, holding that the transfer should not occur unless and until their motion for remand to state court was decided. But the JPML declined, pointing out that a motion for remand alone is generally not considered sufficient cause to vacate conditional transfer orders. (In re: Consolidated Fresenius Cases, No. MICV2013-03400-O).
"Our Firm is representing numerous clients in GranuFlo and NaturaLyte lawsuits that are also pending in the federal multidistrict litigation. It's interesting to note that more than two years after these products were named in a Class I recall, product liability claims continue to be transferred to this proceeding," says Bernstein Liebhard LLP, a nationwide law firm representing victims of defective drugs and medical devices. The Firm is currently evaluating GranuFlo and NaturaLyte lawsuits on behalf of individuals who were allegedly injured by the dialysis medication.
GranuFlo and NaturaLyte Litigation
Court records indicate that at least at 2,575 GranuFlo lawsuits are currently pending in the federal litigation now underway in U.S. District Court, District of Massachusetts. Product liability claims involving GranuFlo and NaturaLyte have been mounting since June 2012, when the U.S. Food and Drug Administration (FDA) announced a Class I recall for the two dialysis concentrate , both of which are manufactured by Fresenius Medical Care. The recall followed Fresenius's release of an Urgent Product Notification in March 2012 that warned of dosage issues that could put patients at risk for metabolic alkalosis, a dangerous elevation in the blood's bicarbonate levels which can result in serious, and potentially life-threatening, cardiovascular events.
According to a New York Times report published in June 2012, the FDA also launched an investigation into Fresenius Medical Care's timing of the GranuFlo recall. The agency's interest was peaked by an internal memo the company sent to its own dialysis clinics in November 2011 warning of severe health risks associated with GranuFlo. However, that memo was not shared with thousands of other dialysis clinics that purchased GranuFlo and NaturaLyte from Fresenius. *
Court filings show that all of the GranuFlo lawsuits pending in the federal proceeding accuse Fresenius of aggressively marketing GranuFlo and NaturaLyte even after their possible heart risks became known. Plaintiffs also question why Fresenius waited until March 2012 to publically warn of the serious concerns associated with the products.
Dialysis patients who allegedly suffered a serious cardiovascular event within 72 hours of the administration of Granuflo or NaturaLyte may be entitled to pursue a case against Fresenius Medical Care. To learn more about filing a GranuFlo lawsuit, please visit Bernstein Liebhard LLP's website, or the Firm's Facebook page: https://www.facebook.com/granuflolawsuit. For additional information, and to arrange for a free case review, please call 800-511-5092.
*nytimes.com/2012/06/15/health/fda-investigates-fresenius-for-failure-to-warn-of-risk.html?_r=0, New York Times, June 15, 2012
About Bernstein Liebhard LLP
Bernstein Liebhard LLP is a New York-based law firm exclusively representing injured persons in complex individual and class action lawsuits nationwide since 1993. As a national law firm, Bernstein Liebhard LLP possesses all of the legal and financial resources required to successfully challenge billion dollar pharmaceutical and medical device companies. As a result, our attorneys and legal staff have been able to recover more than $3 billion on behalf of our clients. The Firm has been named by The National Law Journal to the Plaintiffs' Hot List, recognizing the top plaintiffs firms in the country, for the past 12 consecutive years. Bernstein Liebhard LLP is the only firm in the country to be named to this prestigious list every year since it was first published in 2003.
Bernstein Liebhard LLP
10 East 40th Street
New York, New York 10016
800-511-5092
ATTORNEY ADVERTISING. © 2015 Bernstein Liebhard LLP. The law firm responsible for this advertisement is Bernstein Liebhard LLP, 10 East 40th Street, New York, New York 10016, 800-511-5092. Prior results do not guarantee or predict a similar outcome with respect to any future matter.
Contact Information:
Felecia L. Stern, Esq.
Bernstein Liebhard LLP
info(at)consumerinjurylawyers(dot)com
http://www.granuflolawsuit2014.com/
https://plus.google.com/115936073311125306742?rel=author